News
Tread Lightly Caravan wins Green Ribbon award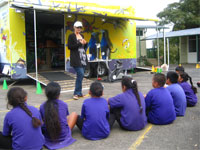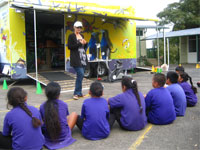 The Urban EcoLiving Charitable Trust's Tread Lightly Caravan, Auckland's only mobile environmental classroom, has won the Community Focus section in the 2014 Ministry for the Environment's Green Ribbon Awards.
"This award is a fantastic achievement for the Tread Lightly Caravan," UELCT's executive director, Gael Ogilvie said.
"Being the winner of the Green Ribbon Award for Community Focus is recognition from our industry peers of the great results that the Tread Lightly Caravan is achieving in teaching and inspiring students in Auckland to live a more sustainable life.
"The award also acknowledges the innovative thinking behind the interactive displays and exhibits that make up the Tread Lightly Caravan experience."
Winners for the Ministry for the Environment's Green Ribbon Awards were announced at an awards dinner at Parliament on June 16.
The Tread Lightly Caravan (developed by the Urban EcoLiving Charitable Trust) is a purpose-built, mobile, environmental classroom staffed by qualified teaching staff and filled with high impact, interactive exhibits aimed at children aged between 8 to 12.
The Tread Lightly Caravan began visiting primary and intermediate schools in Auckland in December 2010 with more than 15,000 school children having experienced its programme.
"The TLC gives school children an opportunity to interact with science and technology-based activities, demonstrating how everyday choices about what we buy, what we eat and how we use energy in our homes and how we travel, can make huge differences to the impact on our natural environment," Ms Ogilvie said.
The TLC is also reached its 100th school visit milestone last week at Edendale Primary School.
3M has supported the TLC since 2011 and is again the TLC's Principal Operational Supporter in 2014. Additional funding has been received during the past year from the Ministry for the Environment's Community Environment Fund, ASB Community Trust, and Auckland Council's Waste Minimisation and Innovation Fund.
More information about the TLC can be found at www.tread-lightly.org