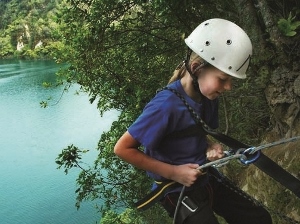 Ah, the school holiday camp! They're embedded in the memories of many of us and usually bring back happy memories – possibly influenced by the kindness of the weather when we were there.
And what a selection we have in this country. From pristine beaches, beautiful lakes, stunning sounds, gorgeous islands and stunning mountain vistas, few, if any, countries are as lucky as New Zealand when it comes to finding a superb location for a school camp, where students, teachers and parental helpers can all enjoy themselves.
But the first component that should be assessed is safety. Any serious injury will immediately destroy the camp's success and lead to inquiries and recriminations. We are fortunate that we do not have to contend with dangers posed by snakes, deadly spiders, crocodiles, prowling bears or other hazardous wildlife, but there are still dangers. As with any outdoor activity, careful consideration must go into guarding against injury – or worse.
When it comes to outdoor activities, such as horse riding, climbing and some ball games, bumps and bruises are inevitable. However, proximity to water, such as lakes and rivers, brings much more serious risks. Schools should check the safety record of any prospective camp and ensure that adequate numbers of competent supervisors will be present.
Indoor and outdoor
And while our range of picturesque camp sites is almost unrivalled, our weather can be unpredictable. If the rain is coming down outside, the wind is howling or the sun is blazing, there will need to be adequate space for indoor activities as well. Even young people can't be on the go all the time and there should be adequate space and time for indoor learning and entertainment. That includes quiet spaces for reading and talking.
South Island schools have some of the world's most spectacular scenery to choose from and the camps are usually of a very high standard. Blessed with locations near awe-inspiring mountains and spectacular lakes, rivers, sounds and fiords, it would be difficult for school camps in the south to be anything other than memorable.
In the North Island, the choice might not be as physically impressive, but is also wonderful. And less isolated camps can have their own advantages if the district surrounding them offers interesting activities and landscapes to explore on field trips.
In that case, it is always difficult to go past Rotorua and Taupo. When it comes to finding a blend of attractions to keep students engrossed on a field trip, it is difficult to go past the sheer range the North Island's thermal region can offer. An added bonus is that it is handily located near the centre of the island and is within reasonable reach of most schools.
The thermal attractions are well known, as are the trout pool and wildlife parks such as Paradise Valley and Rainbow and Fairy Springs, but Rotorua offers so much more. Because the area is well set up for tourists and conventions, it helps make it attractive for school groups as well. The agricultural displays at the Agrodome and other venues, a gondola ride to the top of Mt Ngongataha and a luge ride down, white water rafting and thermal bathing are others in a vast array of entertainment possibilities.
Activities for expanding young minds are never far away. There are excellent opportunities to experience Maori history and culture, with the Arts and Crafts Institute at Whakarewarewa very high on the list.
Inspiring walks are to be had through a forest full of huge redwoods, and there are float planes and a paddle boat cruise to explore Lake Rotorua. Not far away are Lake Rotoiti, the beautiful Blue and Green lakes and the secluded Lake Okataina. Also within the vicinity is the Buried Village at Tarawera and the historical features it involves, including the fabled, lost Pink and White Terraces.
Simplicity the key
However, it's quite possible that no one will want to go anywhere else if they are staying at Lakes Ranch – a 120 acre holiday park offering numerous activities that young people will enjoy.
"The key attraction for schools staying with us is simplicity,' says he park's accounts manager, Cerelia Diprose. "Our wide range of on-site activities means that an entire week-long programme can be held at Lakes Ranch without having to leave the site. We offer a choice of catered or self-catered stays and can accommodate whole schools or syndicates in our 250 bed main camp facility.
"Our activities range from archery and slug gun shooting, to the ever popular natural abseiling wall at Lake Rotokawau, and then on to the favourite movie in the hot pool in the evenings. Our equestrian team offers horse treks, leaving from the events centre and exploring our site, from lakes to bush trails. Free time here is never boring, with a choice of several activities to fill in the gaps," Ms Diprose said
"Our site is the home of Rotorua's well-known Tough Guy and Gal Challenges course, and so we can offer that same course to our guest groups. Schools can use one of our graduated challenge courses, or work with our hosting team to design a unique challenge especially for their visit.
"For the more adventurous schools, we're within easy driving distance of some great outdoor and cultural activities, including Hell's Gate, Whakarewarewa Thermal Village, and Rotorua Rafting. The amphibious Duck Tour Company is willing to provide custom tours, including pick-up and drop- off at our events centre. We can also arrange outcamps above Lake Rotokawau.
"Our large events centre building provides limitless options, even in winter, as activities can be delivered indoors if the weather is unsuitable outside. Tourist flats located in the events centre are a great retreat space for teachers and accompanying parents, while still keeping them close to the action," she concluded.
For those seeking water action, Canoe Safaris offers "fun filled" river holidays on the Whanganui River for folks with little or no paddling experience – ideal for school groups.
Company owner, Simon Dixon says that after more than three decades in operation and thousands of happy customers, "we are confident that our guided canoe and rafting trips have the right balance of fun, relaxation and exploration. We have been running 3-5 day school river camps for over 20 years.
"The Canoe Safaris guides are highly experienced river professionals. They are highly trained in all aspects of river running, first aid and river rescue, as well as being well-versed in local flora and fauna and the rich history of the Whanganui River. They produce superb three course meals at the end of fun-filled day. Our team are all enthusiastic paddlers and many have worked on rivers all over the world.
"We take great pride in providing highest quality river and camping equipment. We have a range of different canoes and rafts suitable to the various requirements of the Whanganui, Mohaka and Rangitikei rivers. Our tents, barrels and camping equipment are designed for durability, comfort and water-proofness," Dixon said.
Canoe Safaris is also member's of the NZ Rafting Association, and holds guiding concessions for the Whanganui National Park and Kaweka Forest Park.