News
Samoan Language Week deemed a success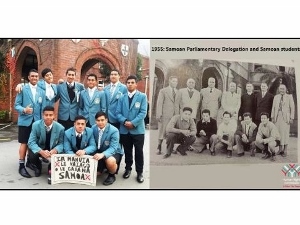 A 1955 photograph of boarders and Samoan parliamentarians unearthed ahead of this year's Samoan Language Week launch event at St Patrick's College Silverstream in Wellington was re-enacted by current Silverstream students last week.
Race Relations Commissioner Dame Susan Devoy said the photo itself was a measina or treasure.
"Samoan boys have been boarding at Silverstream since the first scholarships were launched soon after World War II," Dame Susan said.
"This year's theme 'Taofi mau i au measina' means hold fast to your treasures and more than 60 years later we have Samoan New Zealanders – like these boys – doing just that: holding fast to their treasures."
With hundreds of language events taking place across the country Dame Susan said the language week had been a great success.
"Outside of Samoa, more Samoan people live here than anywhere else on earth so in a way, New Zealand is the Samoan language's second home," she said.
"Promoting and preserving language and culture is an ongoing journey that never ends with one generation. At Independence Day celebrations last year, Samoa's Head of State, His Highness Tui Atua Tupua Tamasese Efi, himself a former Silverstream student, said: 'If we lose our Samoan language, we lose the driving force behind why our leaders fought so hard for independence. If we lose our language, we lose the meaning of why we are here today.'His Highness's words are a poignant reminder to us all about holding fast to those things we treasure: ours to hold and ours to lose."
Year 12 student Ivan Fepulea'i's (front right) is a third-generation Silverstream student. "Coming here is an opportunity and a privilege. Culture and language is also important to my family," Ivan said.
Samoan people make up nearly half of New Zealand's Pasifika population and Samoan is the third most commonly spoken language in New Zealand. The Human Rights Commission and FAGASA (the Association for the Teaching of Samoa in Aotearoa) has led the promotion of Samoan Language Week and associated activities. The Ministry of Pacific Island Affairs is working with government agencies to encourage the celebration of Samoan language and distribute information across the public sector.
http://www.hrc.co.nz/race-relations/samoan-language-week/

https://www.facebook.com/SamoanLanguageWeek