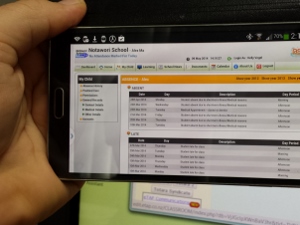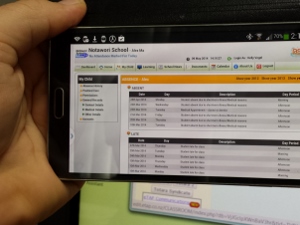 Computerised student management systems (SMS) are not mandatory in New Zealand schools, but having one can significantly improve the way student data is collected, stored and accessed and information is provided to parents and the school community.
According to the Ministry of Education website, Student Management Systems include software that schools use for registration, enrolment, ministry returns, attendance tracking, lesson planning, health and pastoral, incidents and events, calendar, extra-curricular, awards and achievements, recording marks, trends analysis, management and parent reporting, parent portal, staff details, and NCEA entries and returns. Some SMS systems have a parent portal, so parents can log in and gain access to information the school wants to share with them.
Most schools also use their SMS to capture achievement data and the majority then produce parent/caregiver reports using the stored information and standard reporting templates in the SMS. Some schools have also commissioned their own tailored SMS-based reports directly from their SMS vendor. Alternative approaches include adapting current school reports or using ideas that are provided on Assessment Online.
There are a number of companies providing SMS and schools are advised to do some thorough research when deciding to implement a system or change to a different provider. A document on the Ministry's website, entitled Choosing & Implementing a Student Management System, covers everything involved and all the questions that need to be addressed, so is well worth looking at.
Leading Australian-based company Synergetic Management Systems provides SMS for schools across Australia, New Zealand, Asia and the Middle East. Business development manager Robert Ince says New Zealand schools are among the most advanced users of SMS.
"New Zealand is really ahead of the game in terms of Student Management Systems. The New Zealand Government demonstrates its forward thinking approach in relation to student information and its management. There is a lot of functionality required for New Zealand schools, which makes our product ideal for this market."
Their school administration software includes everything you need to run a school, Mr Ince says. It covers a database of students, their contact details, medical information, and academic reporting by subject.
"One of Synergetic's key attributes is we're not just focused on the school, but on the whole school community. It's this community-centric approach, focusing on all aspects of school life as a whole, which enables the school to run with Synergy. Fundraising activities can be linked as the database includes donors, and the SMS can also include debtors and creditors, in fact anyone who has a relationship with the school has a place in the system."
School attendance is one of the main areas all SMS are used for, with each student having a unique ID. Schools are required to keep a record of student attendance and provide a roll return to the Ministry of Education twice a year.
"The requirements from the New Zealand Government are constantly changing so we in turn amend our software to ensure its compliance with the new standards," Mr Ince says.
The Synergetic Management Systems support team provides telephone support within the New Zealand time zone. They also run regular road shows in New Zealand, with a school hosting the team for a week to provide training and idea-sharing across the user base in their SMS.
Developed by Auckland company eTAP, the eTAP student management software is used in 870 primary and intermediate schools around New Zealand.
"The company developed New Zealand's first web-based Student Management System in 1998, then in 2005, when the Ministry of Education wanted every school to be on an accredited system we gained accreditation," the company's business development manager Phil Hardie says. "Sales took off from there and we are now the biggest supplier in New Zealand based on number of schools."
The eTAP software package offers a full range of features including maintaining student information, electronic attendance register, early notification, student assessment, National Standards reporting, parent reports and parent invoicing. It also has text messaging, a parent portal (called @school) and a recently added parent app for smart phones.
An SMS needs a lot of features to help deal with the multitude of activities undertaken by a school, however, efficient use of an SMS should make running a school much easier, and save staff a lot of time, Mr Hardie says.
He says there is a high level of flexibility in the New Zealand education system and, providing they stay within the curriculum, schools can create their own priority about what they want to teach and achieve.
"To cater for this we offer a high level of customisation made available through our help desk. Schools love us for that. We have a very good help system built into the software and all staff have direct access to help customers.
"We're not into big manuals. Schools can contact us directly and we make changes almost immediately based on their requirements.
"We also have a team of coaches nationwide, who have face-to-face contact with the schools and provide training."
Another major provider of SMS in New Zealand schools is MUSAC, which was established 25 years ago and is based at Massey University. Its software packages include administration and management of assessments, curriculum, attendance, students, staff, library resources, NCEA, timetable, finances and assets.
MUSAC has two student management systems, the desktop, server-based system called Classic and a new cloud-based system called edge. MUSAC is Ministry of Education accredited and SMS products are being used in about 820 schools around the country, managing director Dr Jeremy Dombroski says.
"However, MUSAC software is present in well over 1500 New Zealand schools.
The key advantage of Classic is that it can be highly customised to meet the needs of any school."
The downside with high levels of customisation is that it can be perceived as being a bit complicated to use, especially for schools that are not so IT savvy, Dr Dombroski says. But the new cloud-based system, edge, is easier to use.
"We started developing the new cloud-based system when we were looking at how things are changing in the New Zealand education system, and what the needs would be in the future," he says.
"We've worked closely with New Zealand schools to develop edge as a unique solution that re-captures what SMS should be all about: student progress and achievement.
"It focuses on the teacher in the classroom, because the data on the students comes from the classroom and with edge, it's right at the teacher's fingertips. Students with Smart Boards can even check themselves in – under the supervision of the teacher, of course.
"It's quite different from what everyone else has. It's also designed to track student progress over their entire learning journey, irrespective of the school they attended who take subjects in multiple schools or enroll in other learning institutions or organisations, and track student progress, irrespective of the school they attended and enable students to take subjects in multiple schools or enroll in other learning institutions or organisations.
MUSAC provides online tutorials as well as in-school training, Dr Dombroski says.
"Our own staff do that in the North Island, and in the South Island we have a long-standing partnership with the Christchurch-based company Solutions & Services."
One of the key aspects of SMS is Early Notification, or EN, and all Student Management Systems in New Zealand support the use of EN in their Attendance or Absence Management modules – electronic Attendance Registers (eAR).
In a recent white paper released by EN provider School-links, EN is described as a system that uses text and/or email messages to notify parents or caregivers that their child is inexplicably absent from school. Parents can then advise the school as to why the child is absent, or that they didn't know the child hadn't turned up at school, which could be either a safety or truancy issue.
Their research showed that some schools choose not to use email as it may not be seen until much later in the day, plus the advantage of text messaging is that the attendance officer at the school can send it through the SMS system. Other benefits of texting are that it's less embarrassing for parents or caregivers to respond to a text than a phone call if they had forgotten to notify the school about their child's absence, and it's also more convenient for people who can't respond to phone calls at work or place of study.
School-links found that for the school, texting is much more cost-effective than making phone calls. In some cases, the school could save thousands of dollars a year compared to not implementing an EN system.
MUSAC's Jeremy Dombroski believes eAR, in conjunction with EN, has helped improve student attendance because it gives schools a much better handle on truancy and absenteeism.
"There was a perception by the Ministry that truancy was being under-reported. eAR has tightened things up and EN has made it hard to hide."
Robert Ince of Synergetic Management Systems says one of the main features of EN is it helps schools assess student attendance, and so helps improve it.
"There's a greater awareness of what's going on. Schools can jump on possible trends in non-attendance and highlight the reasons for that," he says.
The New Zealand-owned software company School-links gained Ministry of Education approval for Early Notification services in 2006, and is the most experienced provider of EN services in New Zealand, managing director Andrew Balfour says.
"Managing parents' expectations is one of the biggest challenges for any education provider, from early childhood centres through to secondary schools. Parents want to be sure their child is safe, happy, learning and keeping up with their peers, and expect you to keep them informed about it.
"That information can be anything from instantly letting people know about urgent situations, such as a natural disaster, event cancellation or absent student, through to ensuring they are informed about, and engaged in, regular activities. These could be scheduled school events, parent-teacher interviews or team/class events.
"This can take a huge amount of effort, administrative and management time, and cost," Mr Balfour says. "School-links' aim is to help schools use modern communication technologies to do it effortlessly. Our web interface is easy to use and we provide affordable communication tools for education providers, from early childhood centres through to tertiary institutions."
School-links is used by customers across a broad range of areas, Mr Balfour says. These are: to send immediate text alerts to parents, staff and other stakeholders in the event of an emergency or other urgent event; put in place emergency response plans to reassure parents and other stakeholders; reduce rates of unexplained student absences; improve parent attendance at important school events; increase ratio of parents attending parent-teacher interviews, and reduce school administration time in managing the process; reduce administration time and production costs for compiling regular notices.
"School-links provides an online communications tool for 340 early childhood centres, schools and tertiary institutions. It is designed to help connect schools and their communities of families, teachers, supporters, and other staff, and it integrates with the mainstream student management systems," Mr Balfour says. "We are recognised by the Ministry of Education as an official provider. We also offer extensive training and local help desk support."