News
Secondary school art awards 'building their reputation'.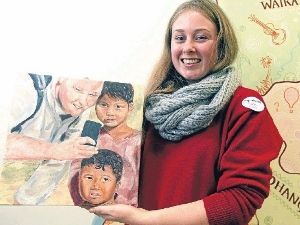 The Excellence in Art Competition created specifically for senior secondary school students in the Waikato and Coromandel has announced its winners for 2014.
Two thousand dollars in cash prizes have been awarded with the top prize of $500 being won by Hillcrest High School's Sarah Willis with her school also receiving $500.
Second prize of $300 was won by Erin Cooksley of Hauraki Plains College, with the third prize of $200 going to Lucy Coombes of Waikato Diocesan School.
The judges also awarded Honorable Mentions to Kavita Harchara Singh, Sammy Kewish and Daniel Leiros-Anderson.
The competition was supported by Creative Waikato and Hamilton City Council and was run and sponsored by Paterson Burn Optometrists.
At the awards evening at Creative Waikato in Hamilton, Senior Paterson Burn Optometrists partner Adrian Paterson said it was clear from the standard of entries in the competition that the importance and the reputation of the awards was continuing to build.
"We started the awards in the hope that it would become a competition of significance that would encourage emerging artists. It is extremely gratifying to see the standard of artwork that the competition has attracted," he said.
The competition judges were Leafa Wilson, art curator from Waikato Museum; Dr Carole Shepheard, Waikato resident artist and former Professor of Fine Arts at the University of Auckland; and full-time artist Santie Cronje from Cambridge.
Sarah Willis said her work was inspired by a trip to Thailand and Cambodia at the end of 2013. The man in the painting is the expedition leader from the trip.
All the art award paintings remain on display at the Creative Waikato offices in Alexandra Street in Hamilton. About a third of the artwork has been sold via online auction with a portion of the proceeds going to the sponsored charity for the event Diabetes New Zealand. Some of the paintings fetched more than $100.
All entries are also on the Paterson Burn website www.patersonburn.co.nz