News
Science funds set to benefit primary schools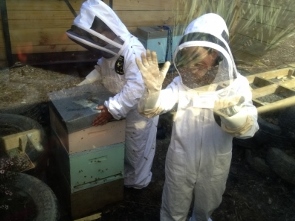 Eight lucky primary schools throughout New Zealand are about to get a whole lot more scientific following the recent announcement of grants awarded from the Bayer Primary School Science Fund.
The funding – up to $2000 per school – will be used for a variety of projects ranging from studying water quality and riparian planting to creating 'outdoor classrooms' and even an archaeological dig.
Bayer managing director Dr Holger Detje said he was delighted to see so many schools embracing environmental science education. "The students not only get to learn more about scientific methodology and the environment, but in some cases their projects will benefit not only the school, but the wider community too.
"I am particularly delighted, to see some of the funding spent on scientific equipment such as water testing kits, weather measuring tools, air and soil probes and microscopes.
"It's the hands-on use of these tools that can really inspire our younger generation to become scientists in the future.
"As a science-based company, Bayer knows very well the importance of science in developing new products for the benefit of people, plants and animals.
"Well done to the eight successful schools – it's great to see a strong focus on scientific learning through so many wonderful projects."
Administered by the Royal Society of New Zealand, the Bayer Primary School Sience Fund is worth $120,000 over three years and is designed to give primary schools the opportunity to apply for funding to support environmental science education and resource Nature of Science activities.
Royal Society of New Zealand CEO Dr Di McCarthy said the Society was committed to advancing quality primary science education by encouraging primary students and their teachers to understand, participate and contribute to authentic science activities.
"There were many great applications for the fund this year, which is really heartening to see. It is particularly pleasing to see the underlying passion of these young people and their teachers who seek to resolve real-life environmental issues and problems through hands-on scientific investigations. Through carrying out these projects, these students will develop critical thinking skills that will assist them in all areas of their lives. This is why science education is invaluable and why we are so pleased to partner with Bayer on this initiative."
The fund supports quality environmental science education teaching and learning programmes. Such programmes have strong links to the Nature of Science strand of the New Zealand curriculum and which involve practical, hands-on science investigations whilst working alongside and engaging with school, local and science communities.
The second round of funding is now open. Applications close on September 12. Go to http://www.royalsociety.org.nz/programmes/funds/bayer-primary-school-science-fund/
The successful schools and their funding are as follows:
Argyle East Central Hawkes Bay
Funding: $1486
To purchase stream monitoring kits and student microscopes to support their project Water Testing and Data Collection in the Argyle East School Wetland and Mangaotai Creek.
Belmont, Lower Hutt
Funding: $1780
To purchase air and soil probes, weather measuring tools, observation frames and accompanying tools to support their project Creating Creature Comforts.
Carncot School
Palmerston North
$2000
To purchase microscopes, portable balances, thermometers, dissecting trays with associated tools to support their project,Water as clear as mud – an ecological study of the Manawatu waterways.
Maraetai Beach School Auckland
Funding: $2000
To purchase water testing kits and environmental science lab equipment to support their programme Safer wai for Maraetai.
Matahui Road Katikati
$1945
To purchase binoculars, spotting scopes, microscopes, assorted geology tools, fossil sets and observation frames for their project Developing an environmental classroom.
San Antonio School, Eastbourne
Funding: $1854.55
To purchase weather stations and data collective tools to support their project Metrological factors and their effect on our environment."
Selwyn House School Christchurch
$1890
For the purchase of data collecting probes and sensors to support their project Environmental Science Datalogging.
South Auckland Middle School Manurewa
Funding $1840
To purchase tools, microscopes, earthworm bins and worms, heat retaining rocks, seeds, student gardening tools to support their project Te Pa Natura.