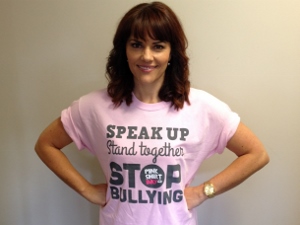 Bullying awareness campaign Pink Shirt Day will once again turn New Zealand's schools and workplaces pink on Friday, May 23
From Shortland Street stars to kindergarten pupils, Kiwis from all walks of life participate in Pink Shirt Day every year to celebrate people's differences and promote friendship.
The message of Pink Shirt Day is speak up, stand together, stop bullying.
"We know that people affected by bullying are more likely to experience anxiety, depression, and low self-esteem," Mental Health Foundation chief executive Judi Clements says. "They also often experience a fall in academic performance.
"Pink Shirt Day is an opportunity for all New Zealanders to come together and discuss what every individual, group, school, and community can do to address bullying."
Schools and workplaces around the country are holding mufti days, dance recitals, shared lunches, and inviting speakers into their schools to shine a light on bullying.
At Auckland's Silo Park, an exhibition will be on display from from Saturday May 17 to Sunday, May 25 showcasing all the positive things people can do to prevent bullying.
While Pink Shirt Day is only once a year, the website (pinkshirtday.org.nz) is available year-round for all those affected by bullying – targets, parents, and schools – to access information, advice, and resources.
"Our goal is to create communities where young people flourish," Youthline Auckland CEO Stephen Bell says. "Pink Shirt Day is about working together to achieve this, and showing how much we care about the challenges faced by young people."
"RainbowYOUTH stands against bullying in all its forms and are backing Pink Shirt Day to help raise awareness around the damaging affects of homophobic and transphobic attitudes in workplaces and schools," Duncan Matthews, general manager at RainbowYOUTH says.
"We hope that through education and campaigns like PSD around diversity and bullying, our queer and trans* Kiwi kids can feel safer and more secure in these situations."
The Pink Shirt Day campaign is thrilled to have the support of Shortland Street actors for PSD 2014.
"We should celebrate individuality," sAmelia Reid (Bella Cooper on Shortland Street) says.
Amanda Billings, who plays Shortland Street's Sarah Potts, has some advice for young people who are affected by bullying. "Be on your own side: believe that you are brave enough and strong enough to handle this and never be afraid to ask for help."
This year, the Mental Health Foundation (MHF), The Peace Foundation, Family Works, Youthline, QSA Network, Rainbow Youth, and New Zealand Post Primary Teachers' Association have come together to help organise and celebrate Pink Shirt Day.
Visit www.pinkshirtday.org.nz