News
Ricoh's 'out-standing' new environmental project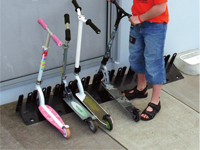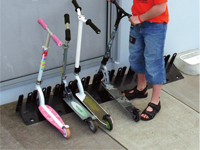 Ricoh New Zealand has launched an innovative new recycling project that will deliver benefits to schools throughout New Zealand.
The company is spearheading a new initiative to create stands for children's scooters made with plastic from recycled Ricoh toner cartridges.
With the popularity of scooters at an all-time high, Ricoh's 'Scooter Docks' provide an affordable and practical solution to scooter parking problems at schools. The idea is the brainchild of Murray Clark, Marketing Manager for Ricoh New Zealand, who says the new initiative is a good fit with Ricoh's business ethos of providing customers with solutions.
"We have a lot of schools who use Ricoh for their copiers, printers and IT solutions, so it's great to be able to provide another type of solution, especially as scooter parking has become such an issue for many schools.
"Not only does it solve a very real problem, it's also an ideal way for us to have our plastic waste recycled and put to such good use here in New Zealand," says Murray.
Ricoh has donated 2,000 Scooter Docks to schools across New Zealand already, and they can also be used as a fundraiser by selling them to parents for use at home.
"Based on our funding plan, for every Ricoh Scooter Dock a school sells they will be able to fund the purchase of another or they could use the scheme as a general fundraiser to help fund other projects", says Murray.