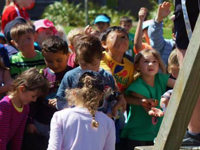 Out-of-school care for pupils can be quite a burden for schools but also a necessity in this age of time-pressed working parents. It is not a school's core business but its senior staff will also want to ensure that its students are cared for safely in an environment they find enjoyable but in which they will not be just wasting their time.
While some school managers will choose to handle it themselves, they also have the choice of allotting responsibility to proven operators which have demonstrated high standards and are continually increasingly well trained with a growing range of skills they can offer.

sKids
Safe Kids in Daily Supervision Ltd administers sKids, a franchise operation that aims to bridge the gap between people in the community with a service that is specific to a school and its community. "We offer-out-of-school care, sports programmes and, more recently, an intermediate school programme as well," says Director, Business Development, Chris Bartels.
"We've been going since 1996 and have programmes throughout New Zealand. We're currently in 120 schools between Whangarei and Arrowtown. We look after about 3,500 children a day and have between 350 and 500 staff members – a 1-10 ratio."
A drawback for such staff until this year has been the lack of a qualification to gain skills, but this has now been addressed. "All they needed in the past was a First Aid certificate, but we now have an NZQA qualification from Level 2 to Level 5 so that we can actually offer a career path in after-school-care," Mrs Bartels said.
"We've partnered with an ITO company called Skills Active and now offer a qualification which will lead to better programme delivery and more committed staff. We've had a 75 per cent uptake from our staff members and the first candidates will graduate on December 18.
"And we've just written an intermediate school programme called ihub that's aimed at bridging the gap between primary school and college because school children cannot be left at home. It's a self-directed engaging programme for tweens, in which they choose a project and set their own goals to achieve it. It's set up more in the form of a club, rather than after school, which is more acceptable for that age group. It's based around the principles of: iactiv8, iparticip8, iinnov8 and icre8, and consists of arts, science or community-based projects.
"Our overall philosophy for older children is: Where kids want to be. For the younger ones, it's: We care when parents can't be there.
"We're not babysitters, we're trying to engage the children and work collaboratively with the school so that everybody has a good outcome. While we're helping the parents, we can also help schools and teachers with their overall goals."
"We run school holiday programmes with outings which take children to places that they may never have the opportunity to go to with their own family or community environments. We also have a sports segment in both our after school and holiday programmes which is aimed at teaching life skills."
Chris Bartels says sKids is always happy to talk to schools about setting up a programme. "If a school finds it's getting too hard to run their own out-of-school care, we can certainly roll sKids out for them. We take over the responsibility. Schools quite often phone us wanting to convert their programmes to sKids.
After all, it's our core business and we're there to fulfil a school's out of school care needs. It's a win win scenario."

Bizzy Bodz
Bizzy Bodz Ltd prides itself on offering quality before and after-school care and holiday programmes in a fun, safe, caring and organised environment in several schools in the greater Auckland area. And while it is busy, it is actively looking for more work.
Bizzy Bodz currently runs eight out-of-school care programmes and six during school holidays.
"Most of our venues operate both before and after school care and holiday programmes," said director, Jo Adamson. "We have a couple of stand alone holiday programmes. And likewise in the after-care, we have a couple of programmes where we don't run holiday programmes during the break. We are looking to expand the business and take on more programmes – either before and after care only, holiday programmes only or both together – we are keen to look at all scenarios."
"There might be schools out there that either don't have a provider at present and are looking to start something. I'm happy to answer any of their questions and put a proposal to them.
"All of our programmes can be tailored to each school, so the principals might like to be involved or not want to be involved at all. We're pretty flexible in that regard and are really happy to work with each school. We have been operating for eight years and have a wide range of experience in many different types of schools."
Bizzy Bodz is not a franchise but run by Jo Adamson and what she calls her "lovely team. We run all the programmes ourselves and have a real hands-on, day to day involvement with the business."
She says all staff are very carefully selected, are police checked and hold a current First Aid certificate. "The programmes are an important part of the school community, particularly for working families, and we value the subtle but important role the programmes play in the lives of the children in our care.
Communication with families, via parents and feedback from the children, is vital in ensuring the quality of all programmes remains high."
She says after school care is structured, with children being provided a nutritious afternoon tea, free time, supervised homework time and access to quality, organised activities such as art and craft, games, baking and sports.
Holiday programmes include trips twice a week from each venue, and include trips to places such as the movies, swimming, ice skating, roller skating, beaches, as well as specialist entertainment venues such as Rainbows End.
"We're happy to consider programmes outside Auckland. We have really good office operation and electronic systems, so it's definitely achievable. "We're experienced, we're flexible, and we're very keen to look at any scenario in any area. We're approved by Child, Youth and Family, which means we must operate to pretty strict standards."