News
Another cookbook for Nic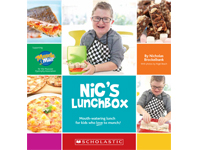 Scholastic New Zealand has once again teamed up with inspirational child chef Nicholas Brockelbank to produce a second cookbook, Nic's Lunchbox, this time with a range of quick, easy and delicious lunch ideas.
Nic lives with muscular dystrophy and in 2012 and 2013 was the ambassador for the Muscular Dystrophy Association (MDA) Bow Tie Appeal and Scholastic NZ are again donating half of the royalties from sales of the book to the MDA.
Nic's Cookbook has been a regular feature in the top 10 NZ children's bestseller list, and it won the 2012 Best Fundraising, Charity and Community Cookbook category of the strongly contested Gourmand World Cookbook Awards for the Pacific region.
Nic was encouraged by a schoolteacher to use cooking to improve his reading, spelling and maths. He enjoyed it so much that he put together his first 'cookbook' when he was eight years old, as a Christmas gift for family and friends. This photocopied booklet of recipes was so popular he set up a website (www.nicocool.com) to sell recipe books and artwork to raise money for various charities. The website also describes aspects of Nic's life with muscular dystrophy from his personal experiences.