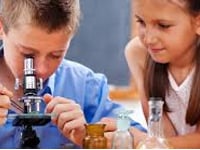 Science matters to us all. Science is everywhere, an essential part of our daily lives and a solid science education is essential, not only for our future scientists and engineers but for all children, of all abilities, in this increasingly high tech world.
Science is about discovering the world around us, having the ability to make sense of the outside world, of knowing things and having new ideas. Part of science literacy is to teach students how to observe, collect evidence and draw conclusions. These skills sharpen minds and encourage scientific thinking – a gift for every child – preparing them for any career or indeed any event they may encounter in life.
Most educators believe that formal classroom teaching alone is not true learning. It is well known that active "hands on" or informal learning fosters optimum scientific literacy in early childhood. The definition of learning from the Campaign for Learning and the Museums, Libraries and Archives Council says, "Learning is a process of active engagement with experience. It is what people do when they want to make sense of the world. It may involve the development or deepening of skills, knowledge, understanding, awareness, values, ideas and feelings, increase in the capacity to reflect. Effective learning leads to change, development, and the desire to learn more." To adopt this philosophy students need to get out there, role their sleeves up and get actively involved with science experiments.
Science lab experiments promote the development of scientific thinking in students. Environments where students feel free to ask questions, probe for answers, conduct investigations, and collect data will have the most success.
In school science labs, students should be viewed as active learners and not just passive recipients of knowledge and they need various opportunities to learn and experiment. In order to do this it is essential that schools invest in safe, high quality science lab equipment.
Bruce Young the marketing manager of Labwarehouse explains that laboratories are potentially hazardous places and therefore appropriate safety measures should always be taken, he says" Familiarity with equipment, good training and appropriate protective clothing are probably the best lines of defense against accidents occurring." In an environment where chemicals are used it is especially important that equipment is in top condition he says, "We advise conducting regular checks of glassware for cracks and chips to avoid cuts, leakages and breakages when in use. Glassware is pretty cheap these days, so we advise, always having the right equipment on hand and keeping a few spares to ensure compromises aren't made."
The discovery of new ideas is an integral part of learning science. It is something that teachers can't teach from a book; it is a skill that students need to develop through discovering new concepts while searching for knowledge. In a science school lab, children conduct experiments and adopt alternatives, they try to work things out and then conclude what did and didn't work and sometimes they might see the potential in what didn't. Many of the greatest science discoveries such as penicillin have been made by pure chance whilst a scientist is studying something else entirely. Nobel prize-winning biochemist Albert Szent-Gyorgyi once said: "A discovery is said to be an accident meeting a prepared mind and a prepared mind is usually what it takes." Mr.Young from Labwarehouse agrees, "In our view, science is one of the most exciting topics in the curriculum and is an ideal way to get students motivated with active learning. Who doesn't remember the wonder of making copper sulphate crystals on a string when they were at school?"
The general public may not realize its importance or the significant role that science plays their everyday lives and some may even think that science is not for them.
But science does matter and truly is for everyone, regardless of gender, race, or level of ability and active learning opportunities should be open to all.