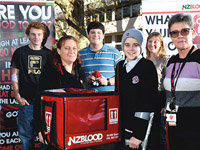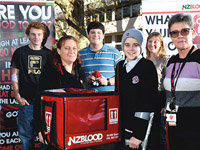 Liam Fisher thought he had a skateboarding injury but it turned out to be a cancerous tumour.
A young cancer patient who has just finished his treatment is already thinking of others.
Selwyn College student Liam Fisher helped organised the New Zealand Blood Service to visit his school in Kohimarama, Auckland so students and staff could donate blood.
"I am done with needing blood but there are lots of kids who are worse off than me who are going through treatment and need it," said the Kohimarama 14-year-old.
"Donating blood is a cool way students can help others and support me because some of the kids felt too awkward to come and see me when I was really sick."
Liam was diagnosed with a cancerous tumour in his leg 12 months ago. What he first thought was a skateboarding injury turned out to be osteosarcoma – a type of cancer that starts in the bone. He has undergone a human bone transplant in his tibia (shin bone) and has a titanium artificial knee. Twelve rounds of intensive chemotherapy not only left him feeling terrible but prevented his body from making its own blood cells.
"They tried to blast it out of me," he said.
"It made me feel so horrible and sick I didn't want to talk to anyone. All I wanted to do was pull the curtains and curl up in a ball."
Liam needed several blood transfusions and in total received eight units of red blood cells and four units of platelets.
The four units of platelets alone took 21 donors. Sixty-six staff and students went to the school gym to give blood. Blood transfusions are an important part of most cancer patients' treatment,
"Over 20 per cent of all red blood cells from donated blood are used for treatment of cancer patients. Many people think most donated blood is used for accident victims but this is not the case."
Approximately 42,000 people every year need blood or blood products and its important that encourage today's youth to become tomorrow's active donors.
The New Zealand Blood Service has FREE Secondary School Resources aligned with the curriculum and offer achievement standards to teach students about blood and importance of blood donors.
If you would like to know more information you can call us on 08
00 448 325 or visit www.nzblood.co.nz