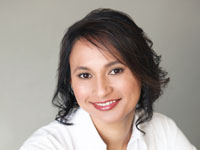 Becoming a sKids franchisee has proved very rewarding for Faieka Abrahams, giving her a great deal of satisfaction and enjoyment.
When she, her husband and two small children arrived from South Africa eight years ago, she needed quality after-school care to enable her to work in the corporate world, which was where she first came into contact with sKids.
"I really liked what I saw as a customer – that my children could be in a safe environment they knew because it was based at their school."
sKids (Safe Kids in Daily Supervision) is New Zealand's largest provider of out-of-school care, with more than 95 schools throughout New Zealand. sKids programmes are based around the philosophy of 'we care when you can't be there' with the aim of being the vital link between school and home for those parents who are not able to collect their children at the close of the school day. Given that Faieka was already passionate about children, it seemed the perfect fit.
In 2007, while still employed in the corporate world, she started out with a small site at Riverhills Primary School in Auckland's Pakuranga. "Within about six months, I gave up my full time job and became a sKids business owner."
The following year, the Abrahams took over a franchise at Remuera Primary School and also started at Anchorage Park. Two years later, they started offering sKids at Bayfield Primary School in Herne Bay.
Faieka is backed by "a fantastic management team. I obviously cannot do this on my own so I have programme managers at all the sites. We make decisions together."
Does she enjoy it: "I'm loving it. I'm passionate about what I do because the rewarding thing is that you are affecting so many children and helping to shape their lives. To give parents peace of mind that their children are safe, we actually go and collect the new entrants from their classrooms. We also communicate with the teachers who know exactly which child will come to us on what day."
The children are all of primary age but sKids franchises are licensed to look after children aged from five to 13. "Weekly programme modules allow us to follow a structured, yet fun programme that can be broken down into age appropriate activities. We have a variety of things we do, such as baking which the children love, but there is learning in it as well," Mrs Abrahams said.
"The children benefit from the social interaction, enjoying lots of different activities with others they know. In our holiday programmes, we're able to do such things as taking the kids across on the ferry to Devonport, which some of them might not have ever done before. And because they're kept busy, they spend less time watching television. We want to help them with both their motor skills and thinking abilities," she concluded.
The sKids organisation prides itself on offering:
• High quality out of school care.
• Programmes created for local school communities, backed by sKids national resources, specialist support systems and 16 years industry experience.
• A means for schools to earn additional income.
• Support to school communities – becoming involved in gala days and other key school activities