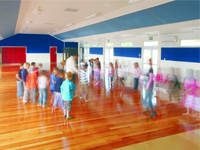 With a tight budget and a client brief to deliver an extension to the existing hall and create a high-quality, multi-purpose facility for the school, Hornby Architects has delivered.
A dual combination delivers the perfect solution
Acoustic ceiling panels combined with acoustic wall coverings were an easy choice for architect Peter Hornby when considering solutions for reducing and managing the noise inside the new hall.
Halls are typically very noisy environments but with the combination of acoustic wall coverings on the walls absorbing mainly high-frequency noise, and ceiling panels as a feature on the ceiling absorbing more of the low and mid-frequency noise, a well-balanced acoustic solution has been achieved and the teachers and pupils of Kauri Park School are very pleased with the result.
Noise control is only the beginning
Acoustic wall coverings not only help to manage noise, but they also acts as a notice-board surface so kids artwork and decorations can be displayed easily and without damage to the plasterboard wall surface making it ideal for this environment.
The ceiling panels have been direct-fixed to the ceiling and finished with a aluminium edge-trim. The result provides simple, clean lines to an elegant feature ceiling.
With a selection of more than 30 colours to choose from, Peter Hornby was able to specify colours to create a warm, modern and comfortable multi-purpose environment. "Not only have the Acoustic Wall Coverings and Ceiling Tiles made a difference to the sound quality in the hall, they are also very aesthetically pleasing" says Peter.
The ceiling tiles and panels are made from safe and friendly 100 per cent polyester fibre. Both products contain a minimum of 50 per cent already recycled polyester made from used and recycled PET plastics like drink bottles, making them an environmentally preferable solution. The ceiling panels and wall coverings are also free from the chemical binders and laminates of traditional acoustic products, contributing to safer indoor air quality for the teachers and children.