News
Science rapper returns to science festival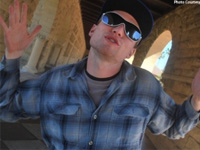 Award-winning Stanford (USA) science rapper and biologist, Tom McFadden aka The Rhymebosome makes a return to this year's eighth New Zealand International Science Festival after his debut in 2010.
As part of the festival's science idol competition Tom will be visiting and performing at schools with a New Zealand tour in Auckland, Wellington, Christchurch, and Dunedin from 21-30 May 2012.
Tom performs rap music to help communicate scientific concepts to children and senior students. Courtesy of the US Embassy, Tom will be visiting primary and intermediate schools working with students to get them to turn science into rap in keeping with the festival theme 'what makes us tick?'.
The festival will culminate with a science idol rap competition with the winner coming to Dunedin to professionally record their audio in the world class recording console at the University of Otago's Albany Street studio. The winner will also shoot a music video and perform live with Tom.
Tom says he can't wait to commence his New Zealand tour and is looking forward to bringing a new set of songs and a higher profile competition to students around the country.
"In 2010, I was lucky to be able to share my enthusiasm for biology and hip hop with Dunedinites. But I know there's a lot of talent and excitement across New Zealand. By spreading the word far and wide this year I think we're going to be able to take the integration of science and music to the next level. I can't wait to see what they come up with."
Festival director Chris Green says Tom is a huge asset to the festival and thanks the US Embassy for supporting Tom's tour and the science idol competition this year.
"We had an amazing response to Tom's school performances in Otago in 2010. The 2010 science idol competition was such as success, we decided to extend the competition nationally and give students the opportunity to get creative with science."
"It is essential that we make science accessible and interesting for students," said U.S. Ambassador David Huebner, "so it's great to know people like Tom are out there working to spark a love of science in kids at an early age. Tom's crossover performances are not only a big hit in the classroom, but also with his academic colleagues – he was awarded a prestigious Fulbright scholarship to study and teach in New Zealand."
Since January 2011, Tom has been living and studying in Dunedin, at the University of Otago, completing a master of science communication.
Details regarding festival ticket sales and other visiting experts are yet to be announced.
The 2012 New Zealand International Science Festival is sponsored by two major funding partners, the University of Otago and the Dunedin City Council.
Visit www.scifest.org.nz or UK Embassy http://newzealand.usembassy.gov for more information.