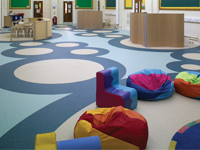 Gone are the days when school floors were uniformly grey, cold and uninviting.
Now schools have a choice of bold, bright colours and patterns; warm, homely interior flooring; or functional anti-slip and sports flooring. They can even choose to embed patterns, such as the school logo, a world map or breakout pods on the flooring.
There are definite trends in the flooring requirements of today's schools. Secondary schools want to project a modern corporate look, while primary schools tend to select bright colours and patterns.
Across all sectors however, there is a definite trend towards a warmer, more homely feel to the flooring, says Melissa Allington, marketing co-ordinator at Polyflor, a division of James Halstead Flooring.
"Schools are moving away from the old grey hospital-style flooring that gave the school a clinical feel," says Allington. "Products such as wood vinyl are gaining in popularity as they provide that warm, inviting feel but are also neutral and blend into the environment."
With environmental awareness becoming a key part of the curriculum through schemes such as Enviroschools, this green ethos and ability to blend with the environment is being replicated when schools choose to update their flooring. The use of eco-friendly flooring also provides a point towards the Green Star Education 2009 rating required for new school builds.
"Vinyl products are no longer bad for the environment and are a good choice for many areas throughout a school," says Allington. "Polyflor's products, for example, are 100 per cent recyclable and are made with up to 25 per cent recyclable materials."
While vinyl flooring and hard wearing carpet can be installed through most areas of a school, there are some areas that require more specialist flooring solutions.
Gymnasiums and sports venues, for example, require flooring that provides shock absorption whilst also offering some grip to prevent slipping. Rubber matting can be useful in weights rooms where heavy weights are dropped and, with dance now an NCEA subject, wooden sprung flooring is also proving a popular choice.
Anti-slip and safety flooring also needs to be considered in wet areas such as bathrooms, changing rooms and cafeterias, as well as in high risk classrooms such as science labs and woodworking rooms.
According to Injury Prevention Waimakariri, slips, trips and falls are the second most common cause of injury within the school environment. And the ACC Injury Statistics tool shows that for the year to June 2011 there were 33,128 active claims for injuries caused by falls in schools for students between the ages of 5 and 19.
"Anti-slip flooring is rougher than standard vinyl and contains aggregate giving it a sandpaper feel," says Allington. "That is why it is perfect for wet areas and science labs especially as you don't want to be slipping over if you are carrying chemicals."
Under the New Zealand Building Code, entranceways and corridors within buildings are required to have "adequate slip-resistant walking surfaces under all conditions of normal use". And most anti-slip flooring, including Polyflor's Polysafe range, is tested to Australian and NZ Standard 4586 which recommends the level of slip-resistance required in certain locations.
But, for many budget conscious schools, a key concern is how to ensure the flooring retains its condition over years of heavy use. The simplest way is to ensure it is cleaned and maintained to the manufacturers specifications, says Allington.
"Some schools have parents that come in to clean and others hire commercial cleaners, so the way the floor is looked after can be a bit hit and miss," she says. "Safety flooring can be harder to clean, however, our products are reinforced with polyurethane and don't require polishing. Mopping and buffing the floor is often all that is required."
Ensuring the floor is properly maintained will also keep it within warranty. Polyflor, for example, offers a 10 year warranty on all flooring and can offer a total warranty system if the installers use Polyflor adhesives and compounds during the installation process.
In all cases there is a lot to think about when looking at flooring – the type of flooring required, whether it needs to be slip-resistant, how to ensure it lasts, and the different designs, patterns and colours. But, says Allington, consulting a flooring manufacturer can help schools wade through the multitude of choices. "Flooring solutions are often decided on by the schools and the architect, but there is no reason why schools can't contact a manufacturer directly," she says. "We can give schools advice, can specify different products and give them some alternative solutions to think about."