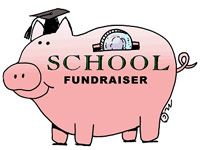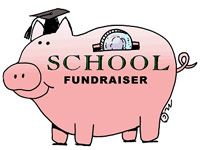 Fundraising has become something of a necessary evil for many schools around New Zealand.
Government funding provides only a small proportion of the amount schools need to invest each year in new equipment and resources. That shortfall now comes from the pockets of parents, teachers, local businesses and the wider school community.
Today's students are switched on to digital technology and items such as electronic whiteboards, digital projectors, iPads, digital cameras and tablets are the in-demand items for many classes. However the only way most can afford these items is by calling on the generosity and spare change of the local community.
There are many different options schools can look at to boost their funds, whether they need to raise a little or a lot. Sausage sizzles, selling chocolates, cookies and lollies, creating recipe books, hosting quiz nights and art auctions, holding a gala or fair, selling seeds or providing discount books are just some of the countless ways schools can raise additional funds.
However, it is important that schools find a fundraising opportunity that works with their core values and the messages they are trying to promote to their students, says Hannah Norton, programme co-ordinator at School Fundraising Group.
"It can be contradictory, for example, to promote a healthy eating or active lifestyle message to students but then give them chocolates, or junk food to sell."
As a healthy option, School Fundraising Group helps schools sell tubes and roll-on sticks of sunblock and organise fun runs where students gain sponsorship from the wider community to achieve a certain goal, such as running a certain distance within a set time frame or completing a specific number of laps.
"The fun run concept can be held as part of the school's cross country race, jump-a-thon and some schools this year are even combining it with Olympic theme days," says Norton. "We can supply the school with all the resources they need to run the event, from sponsorship forms, a co-ordinator's guide, certificates, ice blocks for the children at the end of the race and incentive prizes for those that raise a certain amount."
Offering prizes or incentives to the students that raise the most money is something that has been happening for some time. Nowadays many providers offer incentives for all students that reach certain fundraising targets and it is becoming an increasingly popular way to help boost the amount students raise.
"Prizes and incentives definitely add value," says Lynne Pearson of adventure activity provider Rockup.
Norton agrees. "They are a good option to provide motivation for students to raise more money," she says. "Students really respond to the incentive."
Incentives and prizes that can benefit schools are also frequently offered by big businesses. As an example of a current promotion, Hitachi Heat Pumps, distributed in New Zealand by Temperzone, is offering prizes worth up to $10,000 to those who make a video of themselves undertaking an outdoor activity, inside. The top five schools will also win a Hitachi Heat Pump that they can use themselves or auction off to raise additional funds for the school.
There are, however, schools that prefer a more traditional approach to fundraising and organise an annual gala or fair. This is where companies, such as Warkworth-based Rockup can help.
Rockup provides a range of inflatable activities such as climbing walls and bouncy castles, as well as dunk tanks, mechanical surfboards and tug-of-war. The company also produces a downloadable guide with hints and tips to consider when organising a gala, and an event planner.
Although Rockup offer package deals on the hire of two or more activities, schools are applying to local businesses to sponsor one or more of the activities as a way to raise additional funds, says Pearson.
"Local businesses can pay to brand one of the activities which can go some way to paying for the hire."
For schools looking to do something a little different, the New Zealand Parent Teacher Association (NZPTA) provides a list of potential fundraising activities on its website, from having a cocktail party to a garden safari. And websites like www.fundraisingideas.co.nz can also provide new and innovative ideas.
In any case, finding a fundraising opportunity that suits the school and engages the community is vital.
Coming up with a unique, different way to raise funds that promotes the schools' core values and messages is key, says School Fundraising Group's Norton. "Schools struggle to continually ask for money from parents so finding something different that the community can get behind is crucial."