Profiles
An end to "the dark side" at Porirua College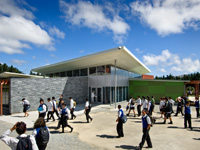 Few schools needed transformation more than Porirua College did just a few years ago. As principal Susanne Jungersen put it: "It was in a terrible state – like a war zone."
The college was the prototype of the 1968, S68 block design the then Ministry of Works had put into schools around the country, which tended to have long term maintenance issues because of their flat roof design.
"It was in a very run down state because the rolls had dropped in the early '90s and we had additional plant we could not maintain," she said. The school had already spent a great deal on battling a number of problems, including "appalling acoustics," and the money pot was empty.
In 2007, the Ministry of Education granted the funds, eventually totalling $18.5 million, for complete redevelopment. Because of the scale of the project, a limited statutory manager – Martin Watson – was appointed, along with a project manager – Craig Mills from construction consultants, Davis Langdon. After a tendering process, a design team from Opus Architecture also came on board.
Global design
Before any key decisions were made, the decision-makers attended a Ministry of Education seminar, addressed by Prakash Nair from Seattle-based Fielding Nair Associates, a global leader in educational facilities planning and architectural design.
"We thought his concept was a really good one," Ms Jungersen said. "It's about 21st Century learning styles, heavy in its use of ICT technology, but also recognising that you need flexible learning spaces to carry out more of the modalities of modern teaching."
Bruce Curtain, project leader of Opus Architecture, was also impressed. "We developed concepts around a new 21st Century learning model, rethinking how a curriculum is delivered and what kind of school facility is required to support that. It was breaking out from what Susanne calls "the cells and bells" – the cell of the class room, ruled by the bell, and into a much more interactive learning environment. Together, we developed those concepts with Fielding Nair and, as architects, we created a form to the buildings and worked to create external, as well as internal, learning spaces."
Bright new havens
The initial stage of the redevelopment was the creation of the first learning house, fashioned from an already existing building, and based on the theories of Fielding Nair. It was named Ara Hou / Ala Fou (The New Pathway) and Mr Curtain says it proved so successful that the students did not want to leave at the end of the day.
"They had to push them out the door at 3 o'clock. The students now had this little haven and did not want to go back to the original buildings. They called the old school 'the dark side' because it was dark and grim and poorly ventilated. They now had a new space that was bright, light, warm and inviting."
So successful was it that three new learning houses were immediately designed and built on an open part of the site, construction starting in 2008 and finishing in 2010.
"Prakash Nair gave quite colourful names to these learning spaces, such as: the Campfire Space, the Performance Space, the Technology Space and the Cave Space," said Ms Jungersen. "They have soft furnishings and long vistas to rest the eyes. It is open plan but modern open plan.
"It meant we could break down the 19th Century concept of sticking a teacher in a box with 24 to 30 kids and a piece of chalk and expecting something to happen. Our concept meant much more flexible learning spaces.
"Now, one class of students can be doing several different things. For instance, four of the students could be with the teacher in the classroom, four could be outside using a laptop, three in the seminar space working things out, and four in another area, using the smart board. Good sight lines mean teachers can keep an eye on everything. Each space would be used for a different purpose. If you wanted to rehearse something quietly, for example, you'd probably use the Cave Space."
While the Ministry of Education did not entirely see it the same way as the college and design team, a compromise was eventually reached and the concept of flexible learning spaces was retained.
The second and third stages of the project has been a mix of new building and extensive refurbishment of old ones. The renovated library will be opened in June and the final part of stage three – the East Block is due for completion later this year. It consists of a refurbished learning house renamed Tangare and some upgraded classrooms. Lighting, acoustics and comfort are now vastly improved in all buildings and landscaping the grounds is well advanced.
Boundaries broken
Rebuilding an operational school is never easy but Susanne Jungersen is full of praise for the construction and design teams firms involved. "Opus International has been marvellous, as has Craig Mills. We all meet regularly and they've been incredibly responsive."
Bruce Curtain regards the redevelopment as challenging, particularly with regard to budget constraints. "Existing models of funding are based on very traditional views of a providing a classroom, and we've been breaking those boundaries – but I think we managed to resolve the issues in the end. We've really made a difference to the learning environment at Porirua College and I think that's fantastic."
Ms Jungersen sees two major outcomes for the college from the project. "We took a school that was in disarray and have given the students a flash new one. That's been really important for them. The morale of the children has been impacted greatly.
"It's also allowed us to develop the style of teaching that 21st Century kids need – with the teacher becoming the 'guide on the side' – and no longer 'the sage on the stage.'"