Profiles
Challenge and adventure at Stonefields School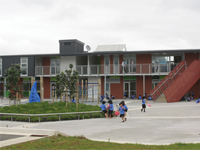 It is what surely every teacher would dream of, the chance to mould a school from square one,
and it is an opportunity that has come the way of the principal and staff of Stonefields School in Auckland.
Stonefields is not only a new school, it is an entirely new planned community on the city's eastern fringe, designed and built from scratch in what used to be the Winstone's Quarry in Mt Wellington. A network of streets containing a brand new array of dwellings, ranging from spacious luxury villas to two bedroom apartments, have been springing up in the last two or three years. Several hundred have now been completed, linked by a network of 11 parks. A central feature is a five hectare lake and wetlands system which is a haven for bird life. A wide range of commercial businesses have opened up nearby, including food shops, a supermarket, petrol station, bars and restaurants.
The Stonefields development covers 110 hectares and will eventually provide 2,500 dwellings that will be home for 6,500 people, all situated only eight kilometres from Auckland's central business district. There has been no shortage of purchasers. Such has been the demand that prospective buyers have to go on a waiting list for a property to be completed.
Stonefields School draws not only on the growing Stonefields community, but also on surrounding areas, such as the adjoining St Johns. By the end of 2011 it was home to about 100 pupils but phase one will ultimately accommodate 260. From Stonefields, they are most likely to go on to nearby Selwyn College. This year will see a staff of 13 – the principal, 11 teachers and one in administration.
Phase two, which will be built in two or three years' time, will expand the roll substantially within a four hectare area. Included will be an early childhood centre. A three-chair dental clinic has already been built.
Collaboration and magic
Main responsibility for moulding Stonefields School into the best learning environment possible fell to principal, Sarah Martin, who began work full time in April 2010. Her previous position was deputy principal at Red Beach School (acting principal 2009). Sarah was joined in July by associate principals, Chris Bradbeer and Kirsty Panapa.
Said Sarah: "We had two terms all together and that was when the real magic began, with the bounce and collaboration we gave each other. We added to one another's bravery really."
The team settled on four vision principles, marked visually in the school grounds by large rocks, drawn from the original quarry, each one representing a different Auckland volcano. They stand for:
1) Building learning capacity – knowing yourself as a learner and knowing 'what to do when they don't know what to do' – where the core literacies sit.
2) Collaborating – making a contribution, working with others, valuing diversity.
3) Making meaning – designed to help our learners grow knowledge, investigate, make decisions, answer questions and problem solve across learning areas. This is done by building knowledge, making meaning and applying understanding.
4) Breaking through – focuses on individual strengths, interests and unique talents.
"There's been lots of research backing up these vision principles," Sarah said. "We haven't necessarily picked up a package and said, 'this is the sort of school we're going to be.' We've blended a whole lot of best practice and research.
"We know this environment is the way of the future. It's international best practice but there weren't a lot of examples in New Zealand to go by. We needed to go further afield because we were passionate about convincing our community that this is the way forward. We know that open plan in the 1970s and 80s in some cases worked incredibly well, but in other cases it did not. We wanted to heed those learnings to ensure our own crack at it was fantastic."
Valued co-operation
All three are very appreciative of other schools who have been very willing to share their ideas, in particular, Albany Senior High. "It has incredibly open space," said Sarah. "We must've visited there five or six times. In Australia we visited a school called Silverton, in Melbourne. Now some schools are making visits to us. Being able to reciprocate and learn from one another is just fantastic."
Although the school building was under construction when the three senior staff started, they were able to put some of their own visions into effect by having several internal walls removed to create, not single classrooms, but learning hubs.
The school officially opened in February 2011 and the roll was immediately culturally diverse with about 25 different nationalities comprising the first 100 or so pupils. Valuing diversity is a core school value.
Three learning hubs are operating at present. The first one is zero to ones, the second, year twos to fours, the third, year five to eight. "We like the idea of putting multiple year groups together so that children have the opportunity to learn from each other," Chris Bradbeer said.
The biggest so far is the year one hub which will be home ultimately to about 60 children, under the supervision of three teachers who work collaboratively to design and plan the learning. "It's very much a learners' space which the teachers are part of," he said. "The teachers don't have desks in the traditional manner.
"It's a really good environment. We've thought carefully about the furnishings. We want kids to be engaged in the learning but also comfortable. We've intentionally under-furnished in order to make sure there is still space for the kids to move around. It recognises that not everyone needs to sit down at a table and chairs at the same time. It gives the children more options to choose what area they're going to learn in.
"The teachers act as a guardian to a group of students," said Mr Bradbeer. "For example, they're the first port of call for parents, and ensure assessment data is up to date for their group. The children are just as likely to learn with the other two teachers as they are with their guardian. The teachers work hard as to how they group the kids.
"The world's running out of experts so we need to be channelling people in their areas of passion and talent. We ensure there's time during the week for the children to be doing that and look for ways of immersing kids in different experiences so they can actually find what those areas of special strength are.
"For the teachers, we want to make sure they feel fulfilled in their roles and utilising what they are best at," he said.
Multi-modal learning
Each learning hub has a wireless IT infrastructure with a triple platform system with Macs, PCs and small Linux based notebooks. Parents were given the option of purchasing notebooks for 2012.
The children quickly demonstrated their affinity with such devices, the six to eight year olds creating an excellent website of the Stonefields wetlands. "They just seem to know how to do these things," Sarah said. "We've been questioning speeches lately too. It's actually not real now to just give a speech. It's seldom done without a presentation of some kind.
"We have to look at how we're producing our future citizens in having multi-modal literacies. If everyone can be a producer in an online environment, how do we ensure the kids are really discerning of the information sources?"
A privilege or a nightmare?
So, has founding a new school been a pleasurable experience or a succession of headaches?
Chris Bradbeer believes the former. "There have been unexpected challenges but it has been very privileged work – an extraordinary opportunity to be able to start with a new, clean canvas."
Sarah Martin agrees. "It's been a special time. I suppose our biggest challenge has been to stay edgy, be courageous and have the determination to think about why the New Zealand schooling system has always been as it's been. We didn't want to be different for difference's sake, but we've had this amazing greenfield opportunity to really start to question how it's always been. We want our education to be current in 20 or 30 years time.
"There's often the reality of what you set out wanting to achieve and what you can fiscally afford, and a big challenge for us initially was that we didn't know our student body, yet we wanted Stonefields to be flexible enough to meet our learners' needs.
"But really, it's all been very positive. What a privilege, what an experience – what an adventure."