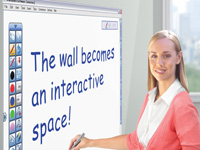 Technology in the classroom has followed a fairly consistent progression over the centuries, with slide rule following abacus, calculator following slide rule,
and with schools now embracing the digital age, we enter a new era of e-learning. Devices can be broadly separated into two groups; Teaching Aids, such as interactive whiteboards and projector interfaces, and Learning Aids, such as Notebooks, Netbooks and Tablets.
The first phase of the debate over electronic tablets in schools is already over – there is almost unanimous agreement over the "if", with the only remaining question being over the "when". With the rise of the Tablet being as inevitable as the rise of the pocket calculator, it seems that the "when" is now upon us. With the 2012 school year now well under way, Wellington Girls College is among the most recent adopters of the technology, joining Orewa College and St Paul's Collegiate as just a few of the hundreds of schools expected to phase personal computing devices in over the next 1-3 years.
In addition to the "if or when" question, there is also the increasingly asked question of "who pays?" With early forms of the tablet costing upwards of $1000, new entrants to the sector have been keen to bring a tablet to market with a much more affordable price point. Prices have consistently fallen, and new Android devices can now be had for less than $200. Funding support from central and local governments, as well as numerous NGO's and Community Trusts, is aimed at getting suitable devices into the hands of students from all backgrounds.
Tablets offer a number of educational benefits, not least of which is their replacement of the traditional school textbooks. With note-taking and communications abilities, it won't be long before the tablet replaces the entire contents of the school backpack, with the exception of lunch, gym socks and the traditional piece of long-forgotten fruit.
Individual tablets also offer another conspicuous benefit to teachers and facilitators – instant feedback. Whether its via polling, voting, or just the ability to provide anonymous questions or comments, students enjoy the ability to become an integral part of the learning process, rather than passive participants.
Teaching Aids are perhaps the most overlooked section of the e-learning revolution, but that doesn't mean that they've been entirely forgotten by hardware designers and manufacturers. Linda Zugai of Wacom is overseeing the introduction of their new Bamboo, Cintiq, and Intuos graphics tablets, electronic interfaces designed for the classroom. "The wireless tablets allow freedom of movement, and interface with existing hardware. Whatever the teacher writes on his or her screen can be projected on the wall behind them, while they can maintain eye contact and interact with the class, rather than turning their backs". Wacom have an extensive range of podium solutions that help bring presentations to life, transforming the teaching experience and enhancing the use of existing tablet platforms.
Presentation solutions, most commonly Interactive Whiteboards, are effectively a modern interpretation of the traditional blackboard. Sharp's new Interactive Presentation Panel, or IPP, uses the latest touchscreen technology to display video content, still pictures, and data – all on a high-quality LED panel with full interactivity. Users can control and edit using a touch pen or finger, and connect wirelessly to student's devices for complete information sharing. While Sharp also have their own "Galapagos" proprietary tablet offering, their IPP can seamlessly connect with all current tablet platforms, such as iPad or Android. Once again, students are drawn into the learning experience, with facilitators able to both push and pull information via these sophisticated and yet pleasingly simple devices.
At Mission Heights Primary School and Junior College, Boyd Visuals have installed a combination of eBeam interactive systems, mounted on the sliding whiteboard cupboards, and Hitachi CP-A100 Ultra Short Throw projectors. Hitachi also have a family of interactive products, which they call StarBoard. These include an ultimate short throw interactive projector and interactive boards featuring touchscreen technology with finger input, which can support input from up to three students at once. They also have wireless tablets, interactive LCD screens and their Verdict Plus student response / voting system. Pete Baldwin from Boyd Visuals is excited about the potential that the StarBoard offers.
"StarBoard is more than just an interactive panel – we have a whole community network in place, with ongoing discussions and entire lesson plans available for up or download. We're working with schools like Pukekohe East Primary, Kelston Intermediate, and Onepoto Primary School. The more we can assist these schools to share knowledge, the faster they can start to explore the capabilities that this technology can offer."
Hitachi are also at the forefront of shadow-reduction technology for projection systems, and have a full range of Short Throw and Ultra Short Throw Projectors. These high definition projectors produce a stunningly sharp image on virtually any surface, from a mounting point as little as 10 centimetres away.
So in this electronic age, is there still a place for the teacher? Of course there is, says education analyst Kathleen Bowman, "The facilitator is still a vital part of the process and that will never change – what we're seeing is the evolution of a new style of teaching known as hybrid or blended learning, where you take the electronic elements and combine them with your structured lesson plans. Tablets and Presentation tools simply allow you to combine effective visuals, such as video clips, seamlessly into your lessons." Studies conducted so far show overwhelmingly positive results on student performance, as well as their perception and enjoyment of the teaching experience. These results indicate that tablets have the potential to offer a more effective teaching pedagogy, especially in problem solving intensive courses.
One by one, the initial objections to the electronic classroom are being addressed and overcome. Devices are now more practical and usable, as well as more cost effective. Support from manufacturers, as well as funding from various third parties has made the electronic classroom significantly more cost-effective and even education's traditional ideologues are seeing the transparent benefits that tablets and other devices can offer to a well prepared teacher.