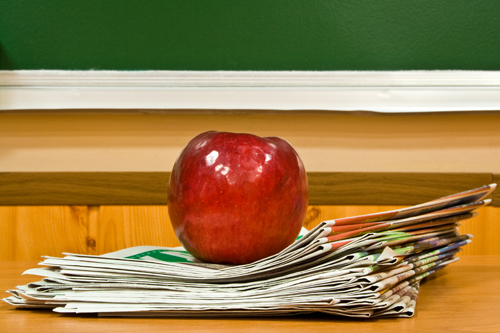 Newspapers used to be something that Dad buried his head in at the end of a long day.
Nowadays, however, many schools around New Zealand are using newspapers to enhance learning and encourage students to read.
The Newspapers in Education programme, a resource available through a number of New Zealand's newspapers, is at the forefront of this change. Running for more than 25 years the programme provides schools with mini newspapers and additional curriculum-linked resources.
Shayne Liddington, a Year 7 student at Mangakino Area School in the heart of the North Island tells us about the introduction of Newspapers in Education at her school and the benefits she and her classmates gain from the programme.
A better way to learn
Newspapers in Education, or NiE for short, was first introduced to Mangakino Area School 10 years ago.
The programme was recognised by teachers at Mangakino Area School as an effective learning resource and was soon introduced to the school's students.
The NiE programme is a series of newspapers which are based on subjects such as world issues, science and even topics about the waste cycle. Students at Mangakino usually write the activities from the papers into their books and then answer them by reviewing the paper and students really enjoy these activities.
NiE has become more popular at our school and the students have found it an easier and better way to learn. They really enjoy most activities and information that NiE provides them with. Mangakino Area School has about 39 students doing the NiE programme. These students are split across two classrooms and range in age from 8 – 13 years.
Students at Mangakino School think NiE is a creative and educational way of learning and we like to learn about different things. The programme has made students at Mangakino School want to learn and has also made them think about the different topics and activities. Also, the different styles of writing and colourful pictures make it very attractive.
NiE is educational and is a great way of learning different topics. Many of the 39 students involved with NiE activities have now became very interested in the NiE papers.
Mangakino School is also involved with the ISite and Newslink papers and students are very comfortable with the idea of information in a newspaper, with both group activities and a lot of individual activities, which is awesome.
NiE has now become a daily topic in our two classes and is enjoyed by all the students who love doing topic study every afternoon. It has created a learning style at our school which has made most students confident to have their own opinions and to speak up for themselves.
The programme is now ingrained into many students' minds and they love the new topics that arrive when we receive new papers each month.
NiE involves close reading and problem-solving activities.
20 
 19
It can also help with comprehension and to help you understand difficult questions. It supports report writing, persuasive writing and caption writing, which can help develop literacy, social inquiry, brainstorming, questioning, skimming and scanning skills. Our school is involved in the ISite and Newslink issues which are suitable for Years 5 – 6, curriculum level 3, and Years 7 – 8, curriculum level 4. Newslink is a great way to bring in outside life to the classroom and helps us to explore languages and different parts of the world, as well as different cultures. It has many reading activities and is very effective in motivating and inspiring further research activities. Also it helps to maintain interest in learning that inspires even reluctant readers and is a great learning resource to many kids in the Waikato region. It includes great activities to fit into a teacher's daily tasks. As you can see, NiE is a very successful resource, which is loved by students at Mangakino School and by students from all over the Waikato region, as well as by the teachers. NiE is very much enjoyed at my school and is very educational for our struggling learners.