News
Journal design wins award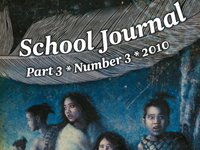 A School Journal that is part of a series published to redress a historical grievance has won the Pearson Award
for best educational book design at the Publishers Association of New Zealand's (PANZ) 2011 Book Design Awards.
It was designed by Jodi Wicksteed, senior designer at Learning Media, publisher of the School Journal.
The judges commented: "This journal impressed us with the creative use of the white feather behind the masthead and the mystical illustration on the cover. The design gives the journal a sense of liveliness and maintains the individuality of stories and articles, whilst upholding the distinctive feel of the School Journal."
The illustration on the cover by Andrew Burdan depicts the escape of Moriori children from invading tribes Ngāti Mutunga and Ngāti Tama. The white feather symbolises the Moriori commitment to non-violence. Wicksteed has worked for Learning Media for nine years, and is passionate about design that supports learning outcomes.
The School Journal has been published since 1907, and in 1916 it published incorrect information about the Moriori, stating among other things, that they were of Melanesian and not Polynesian descent, that they were driven out of mainland New Zealand by the arrival of the Māori, and that they were extinct as a race. None of this was true.
In February 2011, the Minister of Education Anne Tolley visited the Chatham Islands to launch three special editions of the School Journal and five Māori language books published to set the record straight. They tell the truth about the Moriori's 600-year commitment to non-violence, and celebrate Moriori language, culture and identity.