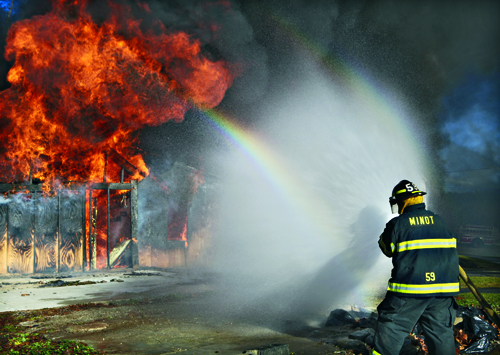 Fire protection of schools is a serious matter.
School buildings are generally accessible to members of the public and can be magnets for troubled youth after hours resulting in arson.
Fires in schools are a great cost to the community and a great emotional cost to the staff and pupils.
We often read in the media about school buildings which are set alight deliberately and pointlessly on a disturbingly regular basis.
Fire protection systems can prevent these losses but they can cost large amounts of money, which give no immediate payback in terms of the delivery of education to young people.
Schools often have little money to spare on fire protection systems but, if protection of schools is to be achieved, suitable fire protection will need to be installed.
Fire alarms
Fire alarms are installed to meet the Building Code, and deal with the evacuation of people from the buildings. In most school buildings these are manually operated, and of little use after hours.
Many schools install smoke detectors in classrooms, attached to the security alarm system.
While alarms are a positive step in dealing with a fire which might be expected to occur from natural causes within the classroom, the effect of response to a malicious fire is nominal for two main reasons:
• Smoke detection within the classroom will typically be delayed from operating until the fire outside has gained enough strength either to have broken through a window, or to have burst through a wall or door. This will occur only a minute or two before involvement of the entire building.
• The response to the alarm is often a security monitoring watchroom, making a 111 call after they have verified the response (calling the site or keyholders etc). Even in the event of an immediate call, most security companies talk about responding in 30-60 seconds to the alarm, and the 111 call will take another 60 seconds at least until the fire appliances are dispatched. These minutes count, and at this point they might as well bring marshmallows.
Fire alarms that are directly connected to the NZ Fire Service watchroom will reduce time from alarm to appliance dispatch to a few seconds, but the Fire Service will always be three – six minutes away in most urban areas.
Malicious fires develop rapidly, either because of accelerant or combustible material deliberately placed in a manner to ensure maximum damage and, as mentioned, alarms are there to ensure the occupants are warned of the fire.
However, they do nothing to protect the building or its contents. Because of this, the only effective option is the installation of a fire sprinkler system.
Sprinkler systems
Typically, if a fire occurs in a school with a sprinkler, one or two sprinkler heads will discharge water over the seat of the fire.
Not only will this minimise the amount of fire damage to the building and its contents, but it will reduce the amount of consequential water damage compared to that if the Fire Service is required to attack a fire with their large fire hoses.
Despite what Hollywood shows, they do not all go off and drench the contents of a building should a fire occur.
Sprinkler systems are also connected to NZ Fire Service watchrooms and, should they operate, the Fire Brigade will arrive to ensure that the fire has been extinguished, shut down the water flow and commence mop up operations.
Schools are required to be protected with commercial sprinkler systems complying with NZ Standard 4541. While domestic sprinkler systems (designed to protect private houses) are cheaper to install, these are not designed to cater for the greater fire load that would be typically found in a larger building, and do not have the same level of reliability built into a commercial system.
As such, they can be overwhelmed by the size of fire that is likely to occur in the school environment. Only a system compliant with NZS 4541 should be considered.
Consideration should be given to exceeding the minimum requirement of the Standard to enhance the system against arson attacks. This would include sealing off any underfloor spaces and protecting under canopies and entrance-ways where protection would not necessarily be required.
A study of sprinkler systems over a 10 year period in Australia and New Zealand, has shown that 99.46 per cent of fires have been successfully controlled by commercial sprinkler systems.
Additionally, sprinkler heads are very reliable, with US studies showing that the probability of false discharge due to a manufacturing fault is in the order of one in 16 million. They are only activated by heat from a fire and do not suffer false alarms or discharges should they be exposed to cold smoke.
Should existing schools be retro-fitted with fire sprinklers and new school projects have sprinklers installed as standard, the minimisation of fire losses would save the taxpayer millions of dollars, prevent the devastating loss of equipment, and the emotionally taxing effect on teachers and our young people. Sprinklers are also able to prevent the loss of evidence of the crime, which will also provide greater likelihood of a culprit being processed in the Justice System. Further information on fire protection can be found on www.fireprotection.org.nz.
Fire safety and design requirements
With reports from the Ministry of Education putting the cost of arson attacks on schools at more than $30 million over the last 10 years, fire safety is becoming an increasingly important issue in New Zealand schools. This, combined with the number of high profile arson attacks on schools over recent months have increased calls for schools to be retrofitted with sprinkler systems. However, with costs to do this likely to exceed $500 million, schools have been advised to hire security firms rather than install sprinklers. Together with the New Zealand Fire Service, the Ministry of Education has developed the Fire Safety and Design Requirements for Schools. This document provides advice and guidance on how to comply with fire safety requirements, including the requirements for sprinkler systems in all new schools, how to comply with fire safety legislation and develop an evacuation procedure. See www.minedu.govt.nz/NZEducation/EducationPolicies/Schools/SchoolOperations/PropertyManagement/StateSchools/SupportingDocs/Section6DesignRequirements/FireSafetyAndDesignRequirements.aspx for further information.