News
Entrepreneurial students display their skills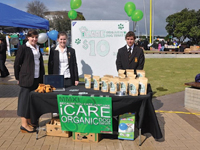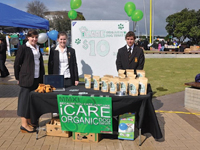 The business skills of Auckland south's secondary school students took centre stage
at an annual trade fair held at Manukau Square in late August.
More than 150 students sold products and services produced by their own companies as part of the nationwide Lion Foundation Young Enterprise Scheme (YES).
It was the first time the trade fair had been held in Manukau Square, and the central location increased the foot traffic from surrounding public shopping areas.
As well as trading to the public, the stalls were eligible for two trade fair awards judged by three 'mystery' judges.
ALIYES from Auckland Seventh Day Adventist High School won the best customer service and sales award for its emergency survival kit inspired by the Christchurch earthquake.
Two teams won the top prize for best trade fair stand award – PLUS from Macleans College with its eco-friendly soap made from used coffee beans and iCare from Pukekohe High School with its organic-certified pet treats.
Auckland Tourism, Events and Economic Development's manager business development – south, Yvette Hellyer, was impressed by the entrepreneurial talents shown at the trade fair.
"The YES programme is an amazing foundation for today's youth, who are learning skills that could help to mould them into tomorrow's business leaders," Ms Hellyer said.
"Trade fair gave these student companies the perfect opportunity to sell directly to the public and test out their product and perfect their sales pitch. The judges were impressed with the innovation, talent and enthusiasm that these kids are injecting into the programme."
YES is a hands-on scheme requiring students to establish and run a real business. It fosters tomorrow's entrepreneurs, giving them the opportunity to form a company, create a business plan, and produce goods or services to sell. Students learn all aspects of running a business including budgeting, decision making, managing risk, market research, marketing, selling and annual financial reporting.
The Yes programme culminates in a regional awards ceremony in early November. The top south Auckland company will then represent the area at a national competition held in Wellington.
Auckland Tourism, Events and Economic Development runs the Young Enterprise Scheme in north, south and central Auckland.