News
Children to become published authors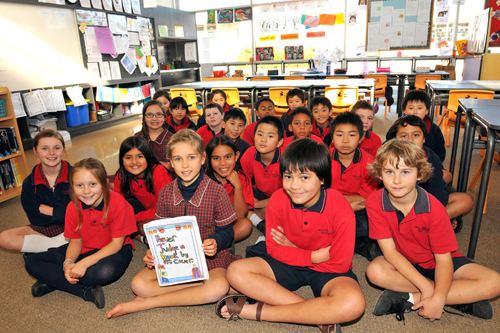 More than 150 Auckland and Northland students aged between five and 12 years old are set to become published authors as winners in the Barfoot & Thompson Young Authors Challenge.
Eight short stories by classes from schools around the region have been selected to feature in a compilation book, which will be published by Barfoot & Thompson and sold to raise money for the Starship Foundation.
The overall winning story, The Pukeko who wanted to be a super hero, by Room 8 of St Heliers School, will be accompanied by seven other tales:
• Ararimu School, Ben Langheim of Room 1 – A Brothers' Battle
• Birkdale Intermediate, Room 11 – Déjà vu
• Howick Intermediate, students from Room 20 – A Paper's Life Story
• Hurupaki School, Pod 7 – Heroes of Antarctica – A Husky Tale
• Somerville Intermediate, Room 22 – The Wolf That Got Punked
• Victoria Ave Primary, Zoe Fong of Room 6 – The Boy Who Danced
• Willowbank Primary, Room 5 – Never Judge a Book by its Cover
The programme is fully funded by Barfoot & Thompson and managing director Peter Thompson says he is excited to see more young authors get the opportunity to experience the joy of publishing their creative works.
"We were extremely impressed by the hundreds of entries we received from over 50 schools this year. We look forward to seeing the winners take pride of place in the new book to showcase the talent and skill of the region's young authors."
For entrants and winners alike, the Young Authors Challenge offers a special learning opportunity for primary and intermediate students. Thompson says he hopes the competition helps to deliver real outcomes in the classroom, as well as foster a lifelong love of reading and writing.
"We designed the competition with the school curriculum in mind, so teachers can use this exciting activity to harness students' creative thinking and hone their literary skills."
In addition to becoming published authors, each winning class will get to participate in a writing development workshop with well-known authors John Parker and Paula Green.
The students will also see their masterpieces come to life through pictures by rugby player Keven Mealamu, who will illustrate the book.
The six-year-old authors of the overall winning story The Pukeko who wanted to be a super hero will see their tale about an aspiring native bird and his forest friends grace the cover of the book and feature as the opening story alongside the seven other successful entries.
"All of the winning stories show an expert execution of plot and writing technique, display creative thought and emotion, and many include a good dose of humour that's sure to entertain readers.
"St Heliers School in particular developed some insightful morals at the end of their story, which made it especially memorable for us and a worthy story to open our book," says Thompson.
Room 8's teacher, Gill Johnson, says the inspiration for the story came from their children's recent research on New Zealand animals, with the class voting the pukeko as their lead character.
"The children did a lot of brainstorming to develop their story and approach. The writing style was influenced by UK children's' author Jill Tomlinson, who often writes about animals and uses repetition to enforce her theme."
The finished book will be published in late October, with all proceeds being donated to the Starship Foundation,
The past three story books have helped Barfoot & Thompson raise a combined $80,000 for Starship. Through the Barfoot & Thompson Magic of Reading programme, copies of the book are also provided to Starship Children's Hospital and Whangarei Hospital's Children's Ward and given to young patients that stay overnight to read and take home.