Making healthy food and drinks readily available at school encourages students to make healthy choices and raise their nutritional intake.
Most schools are already aware of the important links between food, health and learning and are taking steps to improve their food and nutrition. Consumption of healthy food and drinks not only benefit students' overall health, but can also improve their learning and behaviour.
In the canteen
The school canteen allows students to act on the messages about healthy eating that they learned in the classroom. Providing affordable choices that look and taste good is a great way to encourage healthy eating habits. The canteen is one of the best places to model these choices.
Planning your recipe for success
One way to ensure a top-notch canteen menu is to plan ahead. By considering factors such as who your customers are, what resources you have, and what foods are available in each season, you'll end up with a menu that 'ticks all the boxes'.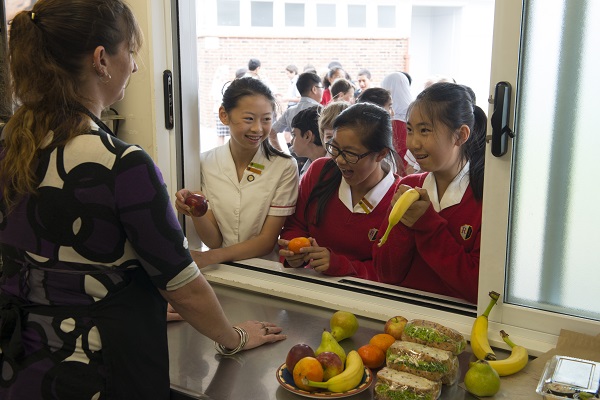 Many school canteens work to tight budgets with small margins. Planning a menu can help you stick to budget by scheduling specials and ordering ingredients early, reducing costly and unexpected top-up purchases throughout the week. Planning can also help you make best use of your staff.
Using a pre-planned menu will make it easier for staff to evaluate and improve choices, according to feedback from students and staff.
To help make menu planning easier, Fuelled4life has developed a School Canteen Catering Guide which offers ideas for menu planning, modifying recipes, healthy preparation methods, budgeting, safe food practices, and tips for reducing waste.
Set your students up for a brighter day at school with these healthy meal choices.
Breakfast
A good breakfast gives children and young people a great start to the day. If healthy breakfasts are offered at school, children who may not have eaten at home will be able to choose a nutritious meal before school begins.
Keep the menu simple, with hot food in winter and cool choices in summer.
Wholegrain cereals, such as wheat biscuits or non-toasted muesli, served with reduced-fat milk or yoghurt and fruit
Wholegrain bread with tasty toppings such as peanut butter, sliced banana, egg, creamed corn or chopped tomato
A fruit smoothie made with seasonal produce, milk and yoghurt
Sandwiches, rolls and wraps
Limit the menu to a realistic number of sandwich choices, depending on the staff and equipment required. Some larger canteens may be able to offer up to ten fillings, while smaller canteens may need to stick to three.
Use fresh bread and prepare sandwich fillings each day.
Wholemeal sandwich filled with lean meat, chicken or egg and fresh seasonal produce
Vegetarian roll with hummus, tomato, lettuce and cucumber
Pita pockets with falafel, couscous, lettuce, chutney and grated carrot
Wraps with guacamole or hummus, lettuce leaves, cooked shredded chicken, sliced tomato and mung bean sprouts
What about snacks?
Children and young people need snacks to top up their energy and nutrient levels between meals. Keep snacks to a size appropriate for the students' ages.
Fruit (fresh or canned) with yoghurt
Vegetable sticks with hummus or yoghurt dip
Reduced-fat cheese slices and crackers
Plain, unsalted popcorn or nuts
Muffins – fruit, or bran and fruit
Vegetable pizza (using a muffin split or pita bread)
How can Fuelled4life help?
Fuelled4life is based on the Ministry of Health's Food and Beverage Classification System (FBCS). It's a free, practical tool which helps schools and early learning services provide healthier foods. It aims to increase access for young people to healthier food and beverages, and to inspire food services to provide tasty, nutritious products.
Sign up to Fuelled4life
One in three Kiwi kids is overweight or obese – you can help change that.
If you are a teacher, principal, canteen manager, caterer or cook and want your school to offer healthier food and beverages, here's what to do:
Sign up to Fuelled4life for loads of free resources to help you choose healthier options.
You'll also get free access to the Fuelled4life website and newsletter with tips, recipes and information on ways to improve nutrition in your school.
For more information or one-to-one nutrition support, please contact the Fuelled4life team on 09 526 8550, email fuelled4life@heartfoundation.org.nz or go to www.fuelled4life.org.nz