While Juicies have been popular as fundraisers at school galas for many years, there are now some exciting new Juicies fundraising products available.
In 2016, Tasman Bay Food Group which make Juicies, surveyed fundraisers and developed two new fundraising products in response to an increasing number of enquiries from schools and sports clubs.
"A growing number of people were contacting us looking for healthier alternatives to some of the traditional fundraising products such as lollies, chocolate and cookies," says Marina Hirst-Tristram, Executive Director of Tasman Bay Food Group. "Juicies are a recognised product which kids and families enjoy and they're 100% natural."
Marina says feedback from the survey was that people wanted fundraisers that were easy to manage and run, suitable for children/families, different to what could be purchased in the supermarket and of course, financially worthwhile.
In response, the company came up with two new fundraising options – a Juicies Event Pack containing 160 Juicies and new Juicies Fundraiser 10-packs, which are ideal for large groups and are designed to be sold through a pre-ordering system.
"We decided to go with the pre-ordering system for the 10-packs as the people we surveyed told us they wanted to be able to place an order once they had collected the money – so there was no issue with having to find money upfront, or being left with unsold goods," Marina says.
The new Juicies Fundraiser 10-packs contain a mix of three flavours and each includes a Juicies holder. The Juicies are made from freshly pressed apple juice blended with delicious fruits and berries and very little else. They contain no added sugar, colour or preservatives and have a 5-star rating under the Health Star Rating system.
To see more about Juicies Fundraiser packs or to download a Juicies Fundraiser Sellers Pack and get your fundraiser started, visit www.juicies.co.nz or talk to your Futurefoods distributor.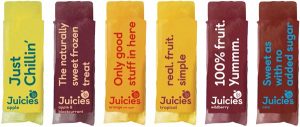 About Tasman Bay Food Group
Tasman Bay Food Group is a niche food manufacturer in Brightwater, near Nelson which employs around 50 staff and makes a range of high quality food and beverage products including Juicies. Juicies products are now sold in nine countries worldwide and the company also makes a range of healthier style food products for school canteens, sold through a nationwide network of futurefoods distributors. Tasman Bay Food Group's own brands include: Juicies, Moosies Milk Freeze, Bruno's Meals, Cookie Tree, Cool Sips, Hot Bites, Buffalo Corn Chips and Speedway Sauce.