Team Solutions, at the University of Auckland, is one of New Zealand's leading suppliers of professional learning and development (PLD). We put school leaders in the driver's seat, allowing you to choose who among our accredited facilitators you want to work with, whether that is for Ministry of Education funded projects or directly purchased PLD that is customised to your specific needs.
Your PLD, your way
In education there is no one-size-fits-all, but we can assist school leaders in designing PLD that meets the needs of their priority students.
Our whakatauki (proverb) Te kāhui akoranga ngaio (birds fly together) encapsulates the spirit of how we work cooperatively to create innovative, professional learning and development projects specifically tailored to the unique circumstances of the individual teachers, leaders and organisations we work with.
Your custom professional learning and development could include:
Building evaluative capability and adaptive expertise of teachers and leaders
Analysing and interpreting data
Coaching and mentoring teachers
Developing staff leadership practices
Curriculum support in mathematics, science and literacy
Classroom observation methods and teaching as inquiry
Culturally responsive and relational pedagogies
Raising student achievement in NCEA
Strategic goal-setting and planning
Digital learning technologies
Performance appraisal
Supporting inclusive education/special needs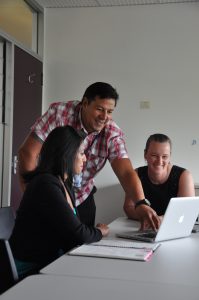 The best minds, the latest research
With more than 80 experienced and accredited facilitators, sports mentors, Reading Recovery tutors and Kia Eke Panuku kaitoro, Team Solutions can deliver professional learning and development to teachers and leaders in a wide range of educational contexts.
Our position within the University of Auckland's Faculty of Education and Social Work puts us at the heart of New Zealand's largest research-led university. The university is ranked 23rd in the world for education as a subject and 10th for employer reputation*). As a result, our facilitators work in close proximity to world-leading researchers whose work influences educational policy and development.
Sustained improvement
We recognise that making a big impact isn't enough if it's not continued into the future. We maintain a strong focus on ensuring the changes we help you bring about are sustainable in the long run so you can continue raising educational achievement in the years to come.
Ensuring that improvement is sustainable can take a wide variety of forms, from improving data collection and analysis skills to leadership coaching or bringing staff together in constructive problem-solving teams. Supporting school leaders to better use the skills and resources at their disposal is a key focus.
Start planning your school's professional development today
Arrange a one-on-one discussion about your PLD options by contacting Cathy Wright on 09 373 7599 (ext 46336) or cs.wright@auckland.ac.nz.
If you're looking for more information on Team Solutions' customised PLD services, check it out here. Or if you'd like some inspiration about what's possible, take a look at some case studies of some of our past work.
* 2016 QS World University Rankings by Subject