In our search for a solution to New Zealand's bullying problem KiVa was the only approach we found designed to focus solely on bullying and being bullied using prevention and intervention expertise.
What makes this approach different?
KiVa has been created on the basis of decades of research and knowledge of
a) Bullying mechanisms
b) The role of the bystander
c) Quality rich student activities
How is this different?
Finnish creators, Professor Christina Salmavali and her team, have an in-depth and tested knowledge of the behaviour behind bullying. The solutions are founded on how they know individuals will respond.
KiVa is designed to change the attitudes and behaviour of everyone in the school community and focuses on the importance of the bystander as a solution. The original research (1996) that revealed the importance, and the roles, of the bystanders was designed by the creators of KiVa.
2. KiVa is used successfully in a growing number of countries. It has been trialled, evaluated and continues to be researched.
Finnish data shows a realistic incremental decline in bullying incidents. Changing behaviour takes time.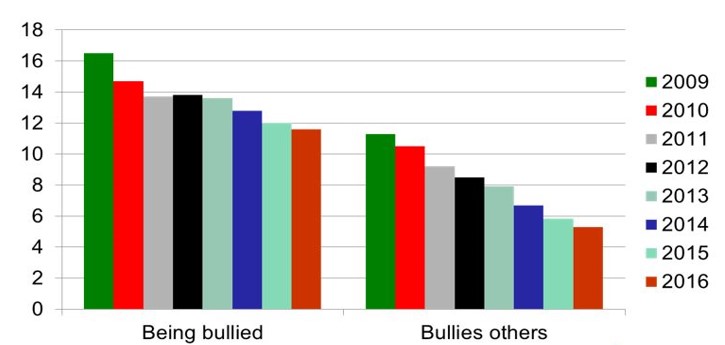 Let's put this into a New Zealand context. For every 5% reduction in bullying incidents we are talking about 39,000 lives that have been improved. That's 39,000 students feeling safer at school.
3. KiVa is also evidence-informed. The annual student survey gives a school information on their situation and how it changes over time. After the first year it also gives students' views on how the KiVa programme is succeeding. It shows how a school is performing against other KiVa NZ schools. The data belongs to the school which is important.
A Further Benefit of Being a KiVa School
A KiVa school has a range of information, collected as part of the KiVa process, about what is happening in terms of the health and safety of their students. They get an annual report that has been summarised and analysed which helps meet the requirements expected of them.
4. KiVa has been proven to reduce the risk of being a bully-victim (i.e. students who bully others but are also victimised by others), as well as the risk of being a bully or victim.
This is a newer finding and an important one. This is where the role of victim and bully can change i.e. the victim turns on the bully. The results for solving these incidents were just as good as for the more straight-forward power imbalance.\

For more information contact: deidre.vercauteren@accent.ac.nz, 
DD 044639612 Or visit out KiVa website: http://www.kivaprogram.net/nz