What is life like for boarders at exclusive St Peter's School in Cambridge? School News takes a look at what's on offer for students – from a dual pathway for academic qualifications to outstanding facilities for sports, music and performing arts – spread across 40 hectares of the lush Waikato.
For most kids growing up in New Zealand, school is a place you travel to and from each week day, and boarding school is something you read about in English novels. According to those books, a boarding school was a grand building in expansive gardens where life was steeped in tradition, students wore hats and stripy blazers, and received shipments of something mysterious called a "tuckbox". In the absence of hard facts, Kiwi kids assumed these to be large boxes containing glorious amounts of sweets. All up, a bit of a dream life. 
At St Peter's School in Cambridge, a real life boarding school in rural New Zealand, the reality does not appear to be too distant from the fantasy. The main building resembles a large English country home and is set in manicured grounds hemmed with topiary, and the grounds are a 40-hectare sprawl of Waikato green. The school even has its own dairy farm, Owl Farm. 
It is an independent, Anglican-affiliated school catering to students in years seven to 13. With a roll of 1040 – 620 day students and 420 boarders – it is the largest co-educational boarding school in New Zealand, now 80 years old. Facilities are beyond enviable; students have their own chapel, equestrian centre, golf academy, lake, velodrom, heated swimming pools (yes, plural) and a fully equipped sports centre.
Sport is a big part of life at St Peter's – and very familiar territory for principal Dale Burden who joined the school at the beginning of this year. For the previous ten years, Mr Burden had been principal at Auckland's Mount Albert Grammar (MAGS), arguably the best school for sports in New Zealand. 
"Sport is a great teacher and it's the schools like St Peter's and MAGS that do it properly that are serving their students best. It's great for social engineering, at making kids great.
"I've had huge experience of secondary school sport and have been around long enough to know what works and what doesn't. My attitude has always been to try to ensure that the sports experience that each student gets is the best that it can be and that striving to be the best is a great journey for young people."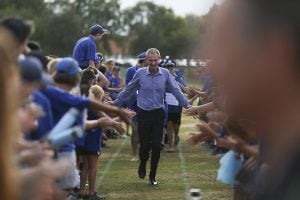 More than 30 sports as diverse as lacrosse and clay target shooting are on offer, and students are required to participate in at least one summer and one winter sport. There are also six sports academies – golf, swimming, tennis, equestrian, rowing and cycling – providing expert coaching for beginners right through to high level performance athletes. Four new academies will be introduced next year for rugby, netball, football and cricket, for students in years seven to ten.
"Boarders have 24-hour access to the school's facilities and, given how much time day students spend at school, they are virtually boarders too. Many just go home to sleep. This is testimony to the huge range of opportunities here," says Mr Burden. 
However, the essence of St Peter's lies not in its dreamy set up, but in its outstanding sense of community, he says. "The school is often described as a village where everyone is helping one another to reach their potential to be the best that they can be. We have some of the most talented teachers in the country and, whilst we recognise that academic achievement is the most important aspect of a child's education, we take a holistic approach. Students are encouraged to take part in the wider life of the school; we have a strong sports program, an extensive outdoor education program and an outstanding visual and performing arts program. The annual show would have to be the best school production I have ever seen."
Students can choose between the National Certificate in Educational Achievement (NCEA) – last year's cohort achieved a 98.3 per cent pass rate in both levels one and two – or the International Baccalaureate Diploma. "The dual pathway caters for different approaches to learning and both pathways enjoy impressive results."
Student learning is assisted by one-on-one mentoring and support from tutor group teachers, and the pastoral care network is extensive with house directors, deans, counsellors, careers advisors, nurses and a chaplain.
Boarders are supported by live-in staff including a house director, a matron and house assistants. There are eight boarding houses – four for boys and four for girls – and students move through the houses with their peers. Their lives are highly organised with days timetabled from 6.30am through to lights out at 9.15pm, even on weekends. Dorm inspection is at 7am, and every student has a house chore to complete after breakfast. It may sound somewhat military, but apparently they love it.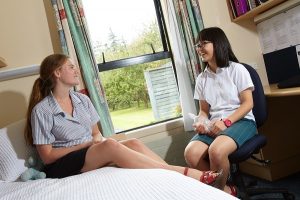 "Boarding is very different today than when I first started teaching at, ironically, another large boarding school, Wanganui Collegiate. Many of the things that went on in boarding in those days just do not happen today. Society has moved on. 
"St Peter's boarders are really well cared for. Their well-being is the foundation from which the experience here is based. The ratio of adults to students is very high as is the quality of care. The life of a boarder is less routine than it used to be with more freedom and flexibility built into their time. Obviously during the day they attend classes and after school they are involved in sport and cultural activities, then after that they go "home" to their house. Their accommodation is highly personalised and private, and many of the students here experience accommodation that is far superior to that they will get in university halls. They eat together in the dining hall and they can also cook their own meals in the house kitchens. Their house is their "family" and they build up strong ties that for many will last a lifetime."
Senior students can have more independence and tend to spend their weekends studying or playing sport, while younger students can utilise the school's impressive facilities or join in organised activities. The houses are all equipped with entertainment spaces, gyms and PlayStation areas.
The St Peter's experience does not come cheap – boarding fees start at $11,500 per year for year sevens, rising to $13,250 for year 13 students on top of tuition fees which range from $16,000 to $19,250 per year – but Mr Burden says boarding school is not the preserve of the privileged. "It's a complete myth that private schools are full of rich families. There are some rich families but the majority are ordinary families making sacrifices for their kids. 
"Our students come from all over New Zealand so we are important to a lot of communities. We are in the heart of the Waikato and this community is where most of our students come from."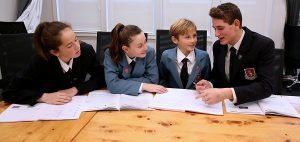 The school is also a huge employer in Cambridge and the Waikato with more than 300 employees and a kitchen that supplies 13,000 meals each week, not to mention all the other services for a community of more than 450 people living on site.
Despite his vast experience in education – senior roles at Westlake Boys', Wanganui High School and NZQA, and contracts with the Ministry of Education and Massey University – Mr Burden is not in a hurry to make changes at St Peter's. "As a relative newcomer to the school, I have spent all my time to date listening, looking and learning. It's really easy to see what needs to change and what needs to stay the same, however my experience has taught me that the method and timing of change is just as important.
"What drives me each day is that I want to make a positive difference for the staff and students that I lead. I really care about the education of the students and want to help them to be the best that they can be. I have worked in many diverse communities during my career as a teacher and educational leader, yet my desire to make a difference for students is the same. I am passionate about education and the life changing experiences that it provides. I believe that schools have a critical role in shaping young people developing them as great people ready for the real world."
Bidvest Foodservice 
Keeping hundreds of busy teenagers well nourished requires an enormous amount of skill, planning – and food! At St Peter's School, the task has been entrusted to contractors Bidvest Foodservice for the past 18 years. Bidvest delivers frozen, chilled and ambient foods to the school six days a week using modern, multi-temperature trucks. The school also utilises Bidvest's account manager and telesales team, all part of the company's food consultancy services.
Bidvest also provides advanced product information via its online ordering system, Bidvest Direct. This contains detailed ingredient data regarding nutritional information, allergens and gluten-free options. Bidvest's food safety program is approved by the New Zealand Food Safety Authority. 
The company further supports St Peter's School through funding with Bidvest Foodservice Hamilton having been involved with sponsorship of St Peter's Sports Foundation.